---
Wisley's Alpine Log
By Paul Cumbleton

Log 13 --- 19th June 2008

Sometimes we get asked to become involved in activities that give a break from our usual routines. One such event recently was called "Meet the Gardeners" and was aimed at children. "To bring the joy of gardening to a significant number of UK children" is one of the new "driving goals" that the RHS has set itself for the next few years and this event was just a small contribution to that goal. Different departments in the garden did various activities during the week. The alpine team offered children a chance to learn how to pot up an alpine plant which they could then take away with them to grow on at home. We used sempervivums as they are pretty tough and easy plants to grow. We were surprised at how quickly an enthusiastic crowd of children were attracted to try planting their own plant.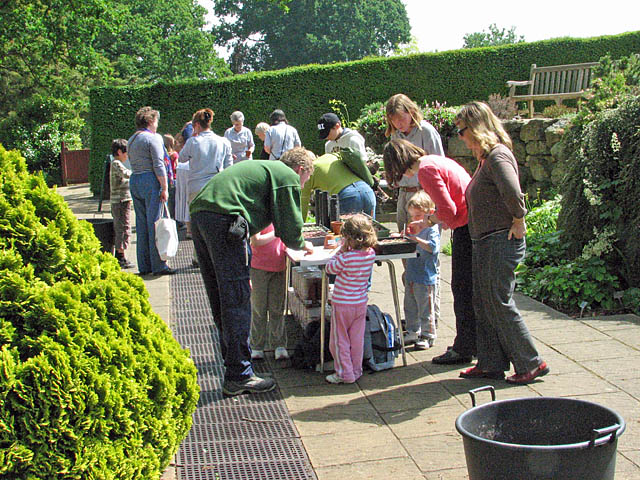 Children potting Sempervivum

The event lasted four hours and throughout that time there was a constant stream of youngsters (and some not so young!), often gathered several at a time around the bins of compost.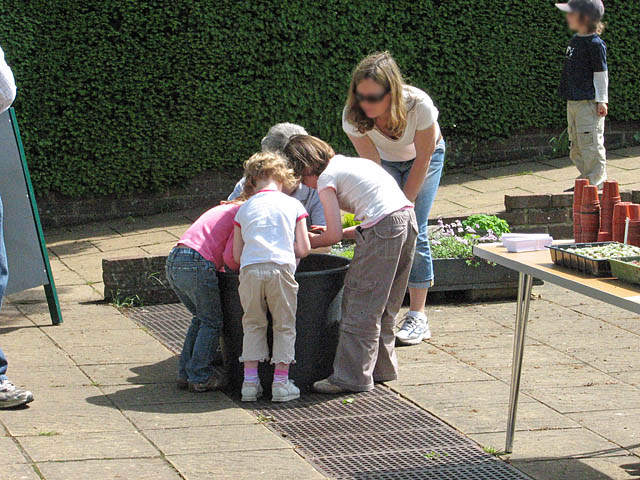 Children round the compost bins

We also offered them a quiz asking which of several illustrated items were actually necessary for plants to grow. Gladly, none of them thought that chips were necessary! When they had completed potting their plant they also went away with a larger pot to move it to once it has grown a bit, a bookmark with some short notes about alpines and a sticker to say they had met the gardeners. Well over 200 youngsters had taken part by the close. I wonder how many will remember what they learned about how to look after their plant once they got it home?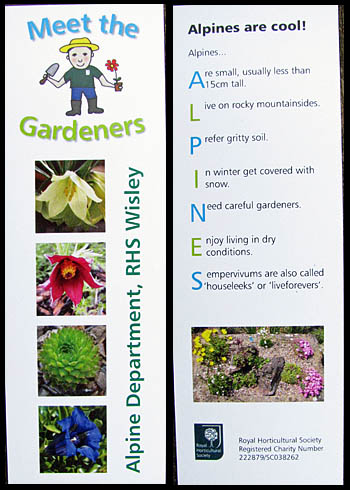 Bookmark given to the children

An exciting development is occurring in our landscaped house - our Yucca baileyi is going to flower. This is only the second time this plant has flowered here in recent years.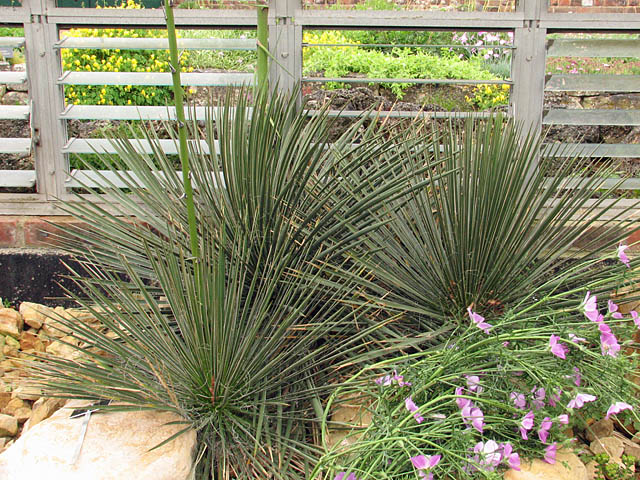 Yucca baileyi

The flowering stem is growing at a speedy rate - several inches per day. It soon reached the roof of the house and we had to cut a hole in the glass to let it escape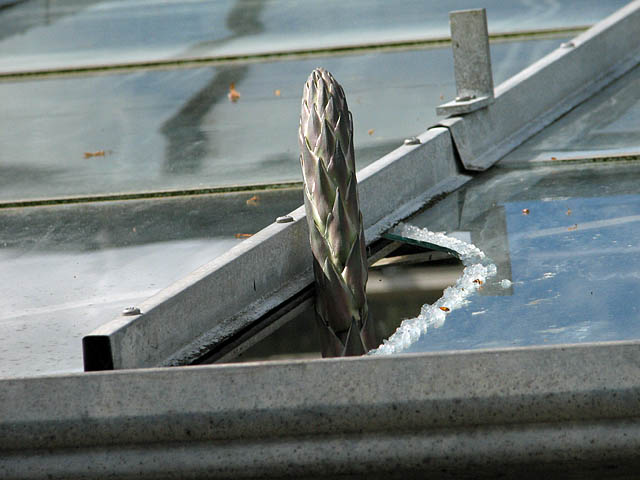 Yucca baileyi reaches the roof

Just two days later and it was well above the glass.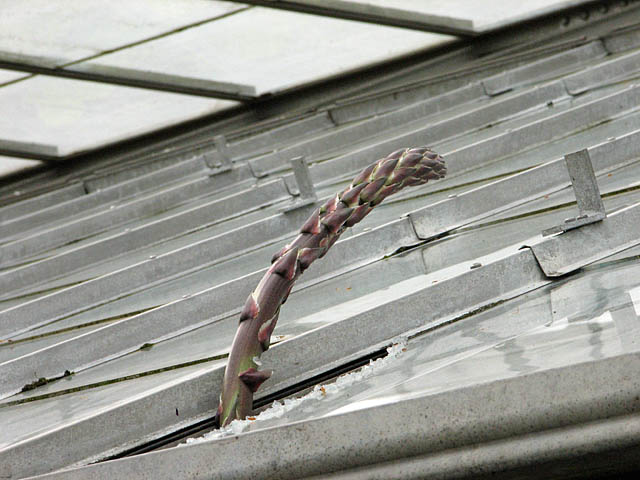 Heading for the sky

It seemed to bend from side to side as it grew, though eventually taking up a truly vertical position. Six days after the last photo it was even taller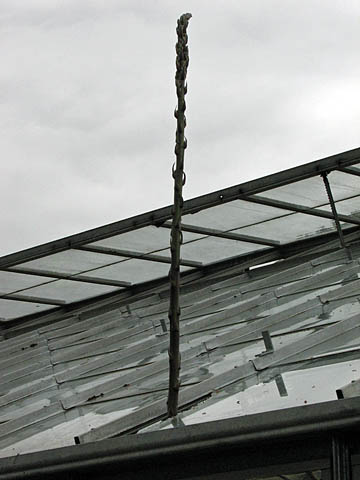 6 days later

We await the final height and opening of the flowers, which I will show in a future log.

Now from something high and liking dry conditions to something decidedly smaller and liking the opposite - ourisias. I have long admired the South American species but found them difficult to grow until a great tip was given me by Martin Scheader. This was to stand the pots in trays of water permanently while in growth. This single action transformed our plants and now we enjoy their beautiful flowers reliably produced in profusion. The rich colour of Ourisia polyantha 'Cliftonville Scarlet' really glows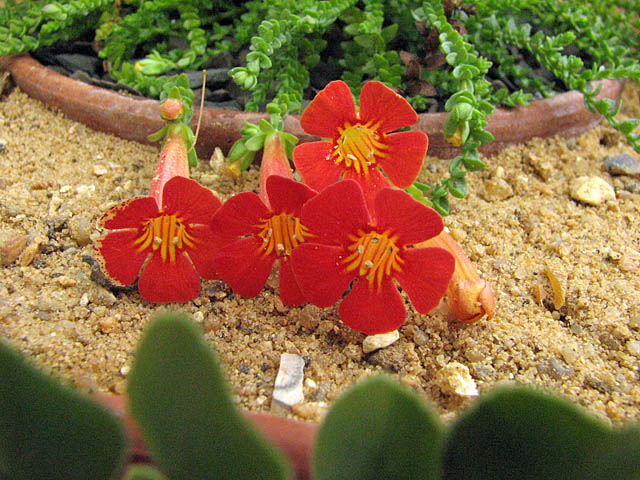 Ourisia polyantha 'Cliftonville Scarlet'

Ourisia microphylla has smaller, pink flowers but produced in abundance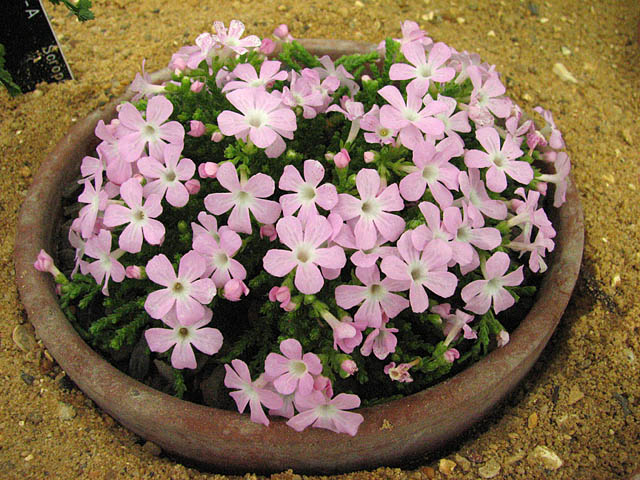 Ourisia microphylla

There is also a lovely pure white form of O. microphylla: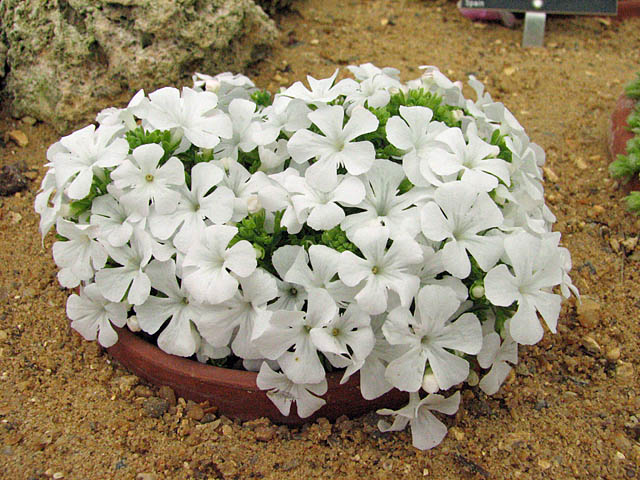 Ourisia microphylla f. alba

Martin Scheader who gave me that tip has hybridised these species and produced some very attractive results. The cross is known as Ourisia x bitternensis. This one is Ourisia x bitternensis 'Cliftonville Damask'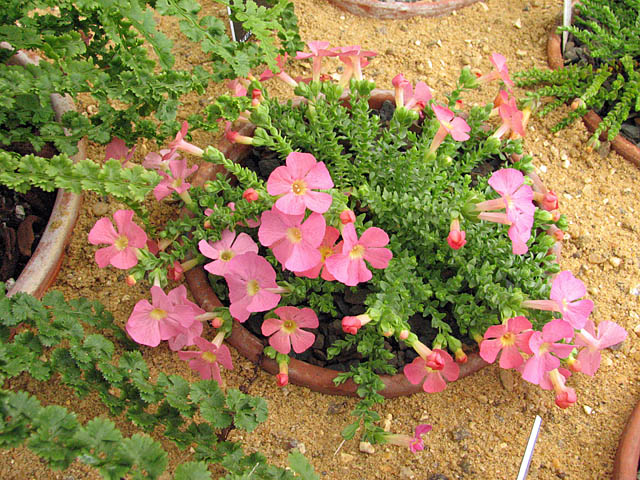 Ourisia x bitternensis 'Cliftonville Damask'

My favourite of these hybrids is Ourisia. x bitternensis 'Cliftonville Canary' with yellow flowers. This one is just coming into flower now: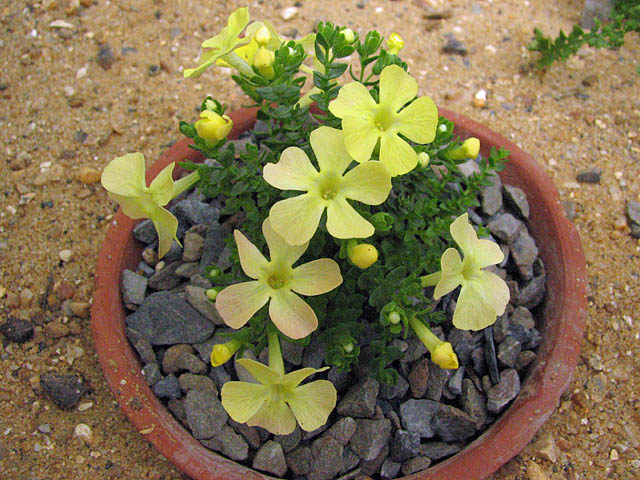 Ourisia x bitternensis 'Cliftonville Canary'

They like an acidic compost with some humus and the mix we use is:

1.5 parts John Innes Ericaceous compost (not the usual John Innes which is too alkaline)
1 part Peat
0.5 parts Cambark Fine (this is composted bark)
1 part Perlite

Finally just a few things that have given us pleasure recently. The Spanish foxglove, Digitalis dubia, can make a very attractive pot plant with its soft pink flowers. Constrained in a pot it stays quite small.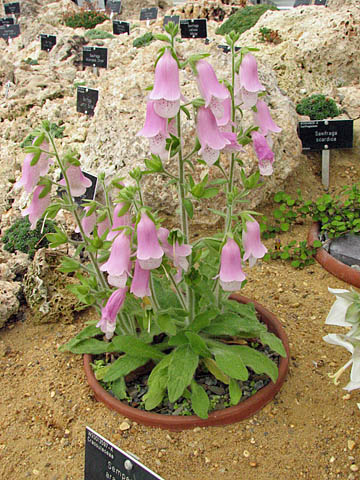 Digitalis dubia

Campanula trogerae flowered for us for the first time from seed sown in 2006. The seed was from Jim & Jenny Archibald, originating in Turkey from the Barhal valley, NW of Yusufeli at 650m. They first introduced this plant to cultivation in 1986. It has large, pure white flowers which open almost flat and make most attractive display.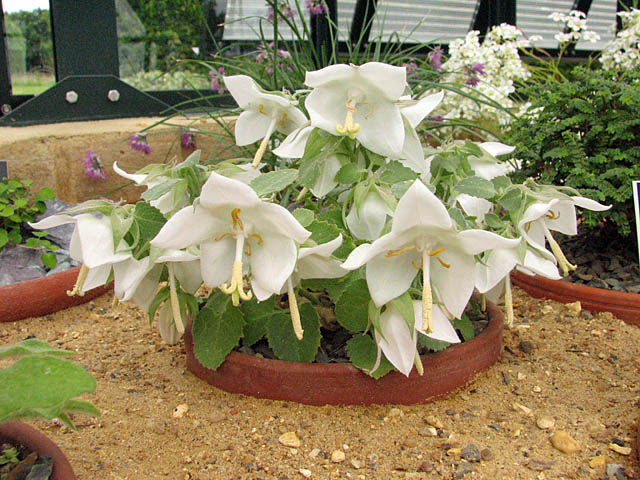 Campanula trogerae

The arisaemas have been flowering too and Arisaema candissimum is one of my favourites with its pinkish tinge.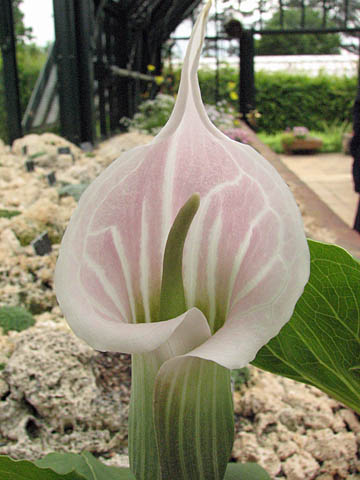 Arisaema candissimum

^ back to the top ^