---
Wisley's Alpine Log
By Paul Cumbleton

Log 4 14th February 2008

This past week we have been sowing seed of those alpines that benefit from winter sowing as they require cold temperatures to germinate. Most sowing of this type should of course have been done long before now, but some seed arrives late from the exchanges or from overseas sources and so ends up being sown later than would be ideal. They may not get a sufficiently long chilling sown now and if need be we will put them in a fridge - if there is enough space!

Most of our seed is sown in standard 7cm square black pots, but for some we use deeper square pots. You can see the difference with the two side by side: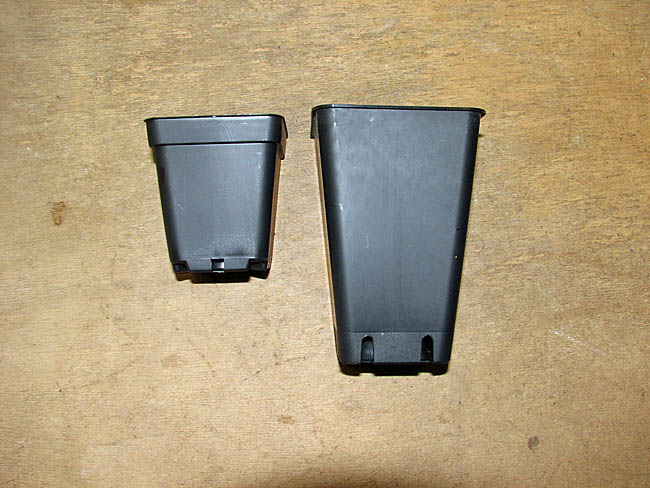 Standard and deep square pots

The deeper ones are used mainly for bulbs, especially those types such as Calochortus that seem to like to go deep - you always find the baby bulbs at the very bottom of the pot when you tip them out for their first repotting. For these types I also always cover the drainage holes with a square of mesh: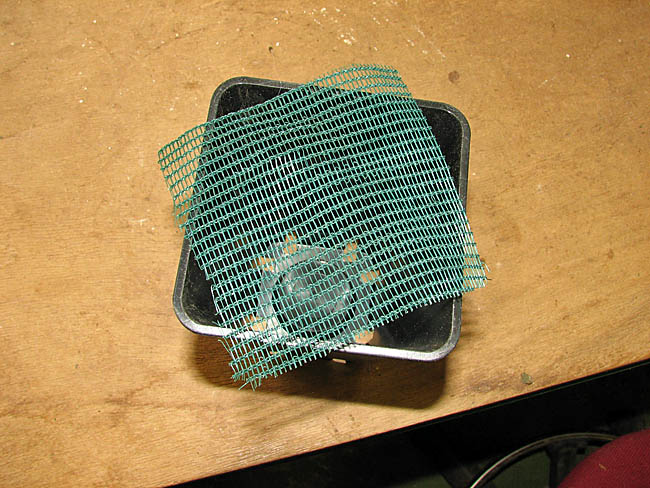 Mesh cut to go over drainage holes

This is to prevent the baby bulbs from exiting the pot in their quest to go deeper. Before I started doing this, I often would tip out pots a year or two after sowing to find them almost empty when I could have sworn they had plenty in. Then when green shoots start growing up in the plunge you realise where all the missing bulbs went to - they had grown down, out of the drainage holes and positioned themselves several inches down into the plunge! So the netting stops them wandering.

For the majority of seeds our sowing mix consists of equal parts of John Innes seed compost, grit and fine vermiculite. Mixed up it looks like this: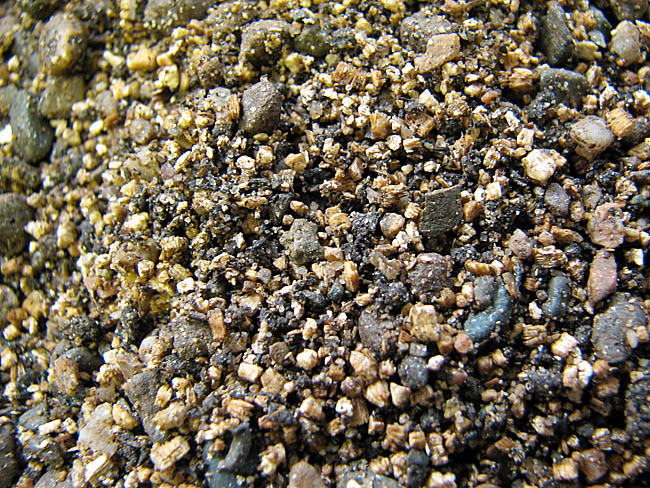 Seed sowing mix

I first tried this recipe many years ago having heard Jim Almond say it was what he used and I have found it works very well (Thank you Jim!!). It falls apart particularly easily when you come to pricking out, making it easy to extract individual seedlings with little or no root damage. For most seeds we simply fill the pot to within half a centimetre of the top, scatter the seeds on the surface and then cover with a layer of grit. I know many growers talk about using "one or two centimetres" depth for this grit covering, but my experience suggests I get better results with a much thinner layer of about half a centimetre.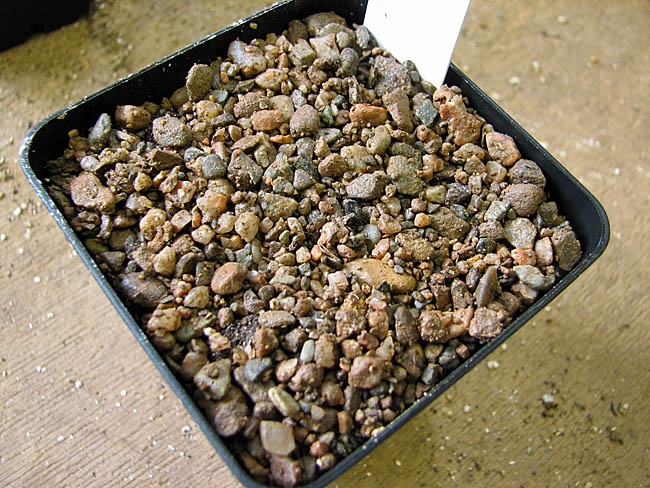 Seeds sown and covered with a layer of grit

For those seeds which require exposure to light to germinate, for example most Campanula, the seed is scattered on the surface and then a very thin covering - more or less a "mono layer" of fine vermiculite is scattered over the top. Most seed pots are watered with a fine rose on a watering can, but the surface sown ones we stand in a tray with water and let it soak up - they are too easily washed around with watering from the top.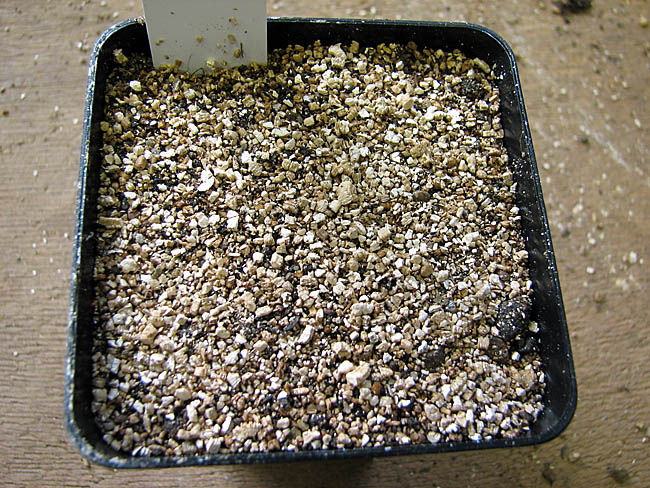 Seeds covered with a thin layer of fine vermiculite

February is the month we start repotting various things. Chris Allan has started doing the Rhodohypoxis for which he is responsible. These are tipped out and the small corm-like rhizomes cleaned of the old compost.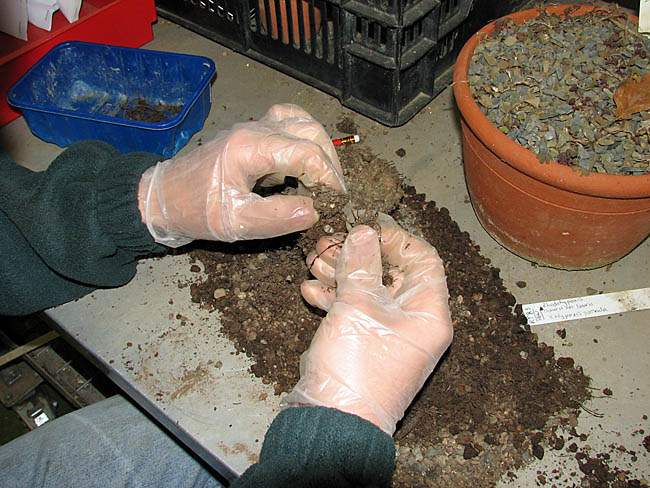 Rhodohypoxis repotting - cleaning off the rhizomes

Some varieties have already started to push out new shoots and roots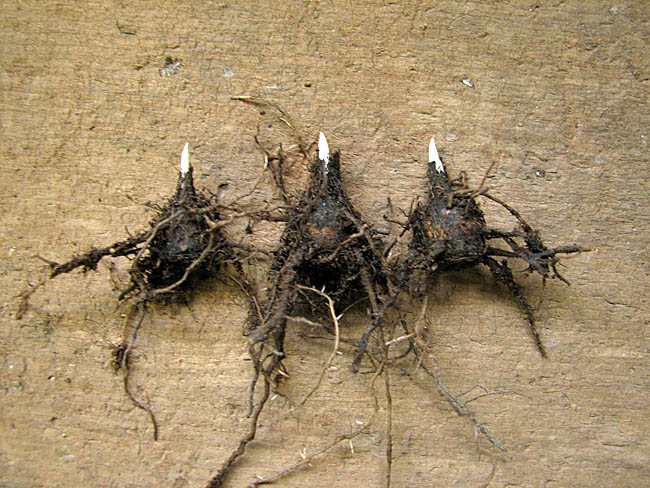 Rhodohypoxis rhizomes starting to grow

The cleaned rhizomes are then potted in large pans, planted so the tips are only a centimetre or so below the top of the compost. Rhodohypoxis like an acidic, moist but reasonably drained compost mix. The mix we use is:

1 part John Innes No. 3
1 part Peat
1 part grit

When mixed up it ends up looking like this: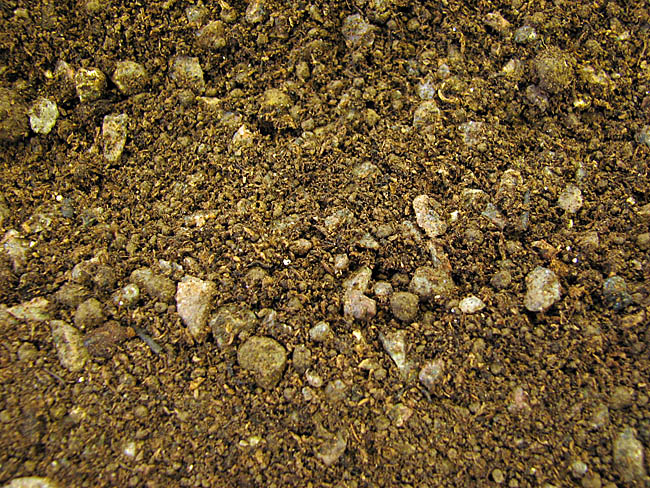 Rhodohypoxis mix

Now I think we need some colour. On the Rock garden my favourite of all the Narcissus, N. cyclamineus is in bloom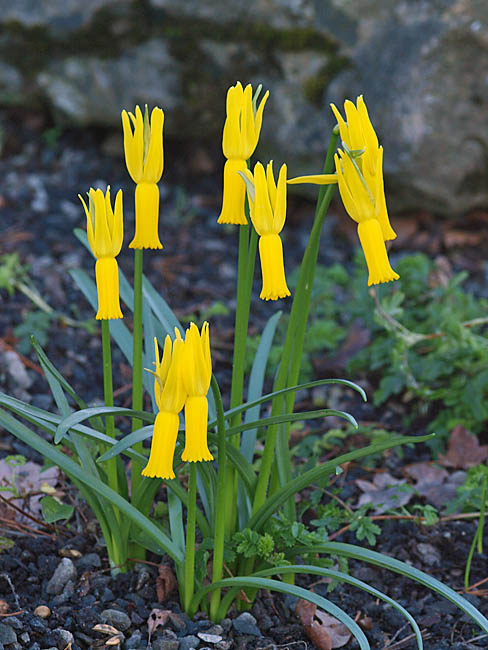 Narcissus cyclaminius

Not far away the Hellebores are still going strong. I much prefer the paler colours - the whites, yellows etc - which light up the areas in which they grow. The darker maroons and the like though pretty in their own right somehow seem dull and easily overlooked. I particularly like the yellow ones that have red spotting inside.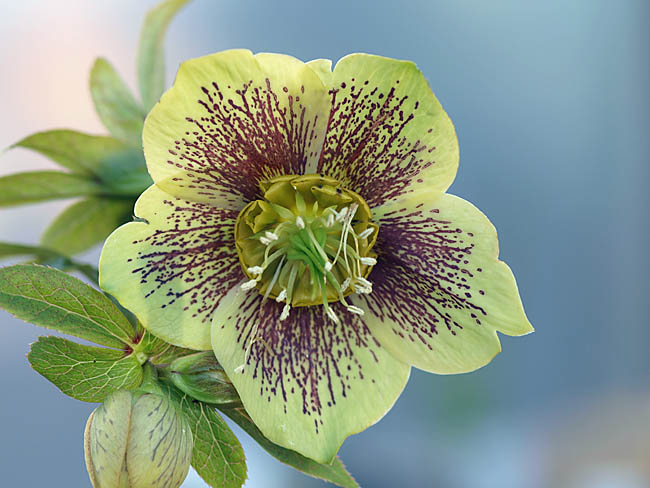 Helleborus hybrid

With the very mild winter (and record high temperatures for February!) the Display House looks as it might do normally in Mid March, not Mid February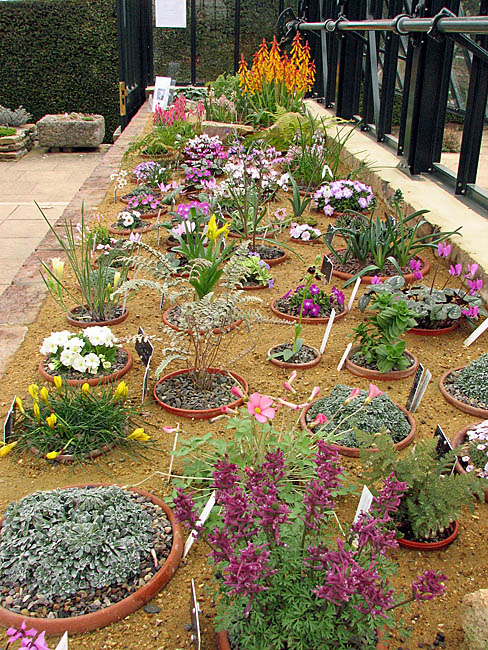 Display House

The Primula allionii are at their best right now and several forms are out on display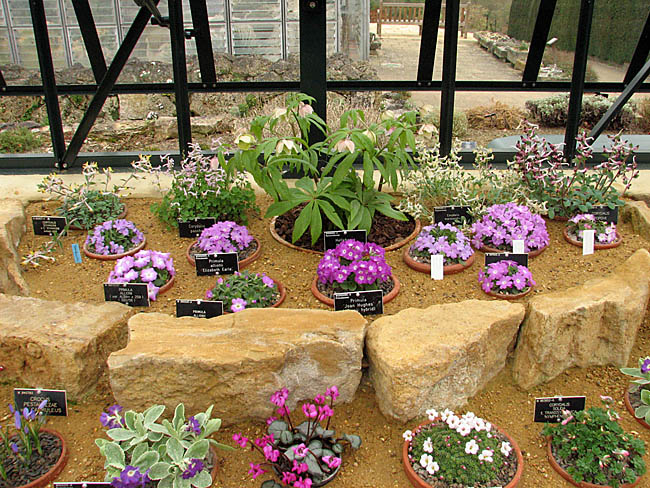 P. allionii grouping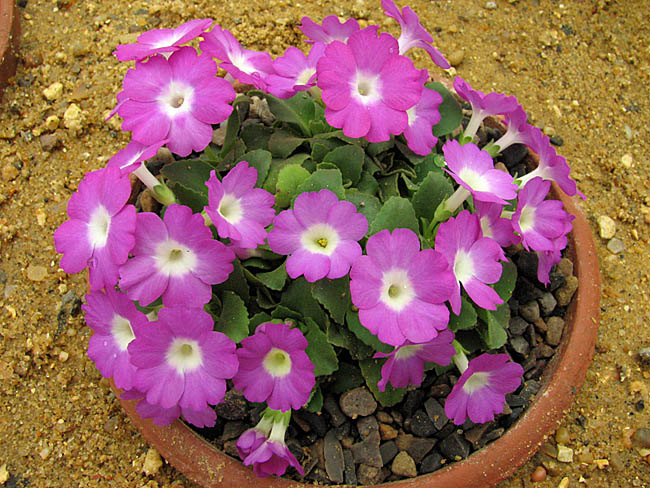 P. allionii 'Liz'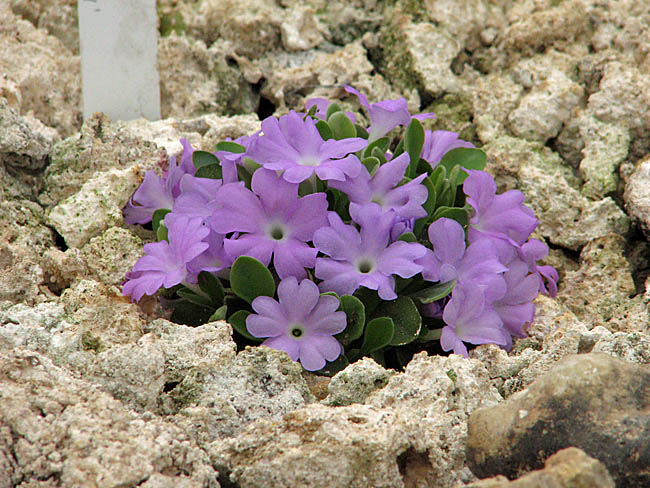 P. allionii 'Tranquility'

Finally, we also have lots of Corydalis flowering now. Here are just a few to enjoy: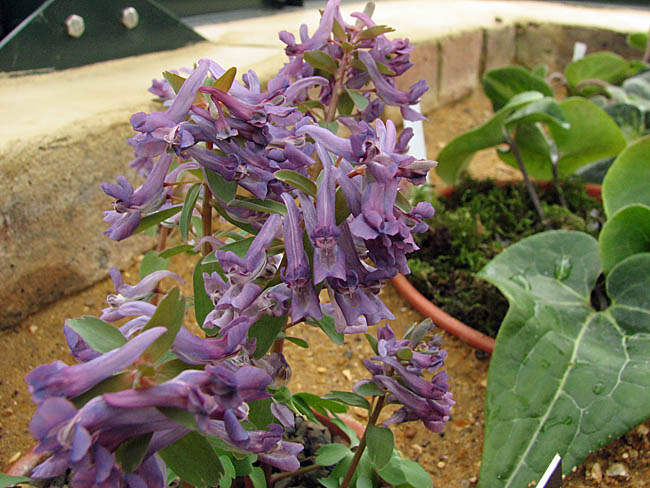 Corydalis solida 'Harkov'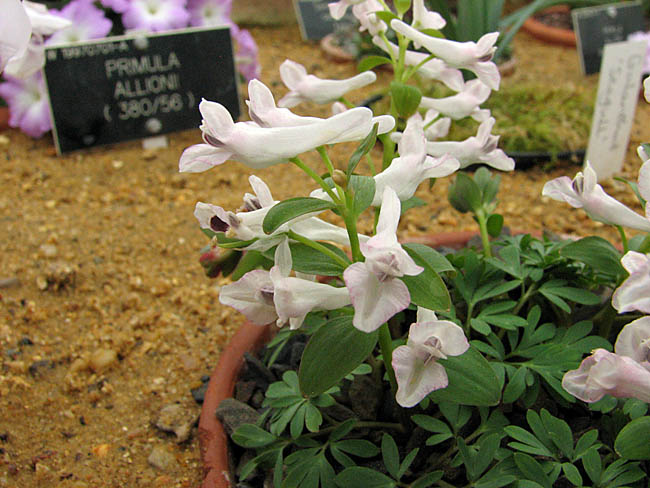 Corydalis vittae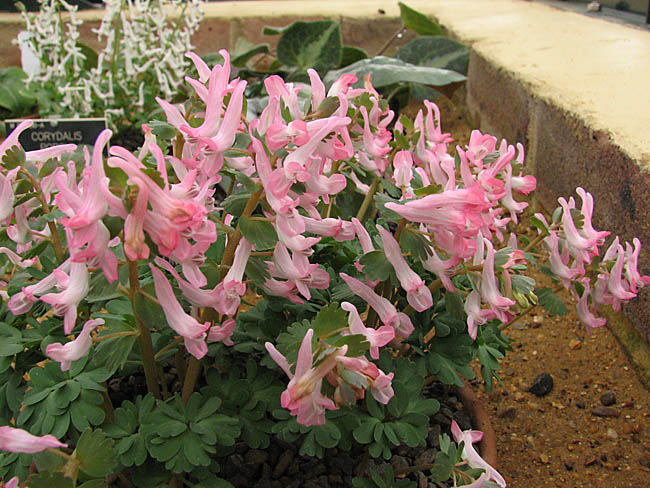 Corydalis solida 'Munich Sunrise'

^ back to the top ^