---
Wisley's Alpine Log
By Paul Cumbleton

Log 10 9th May 2008

I took last week off work and when I returned this week I was amazed at how quickly things had moved on at Wisley - there was colour everywhere, with the Azaleas being particularly prominent and the old Rhododendron 'Temple Bell' near the top of the rock garden also opening.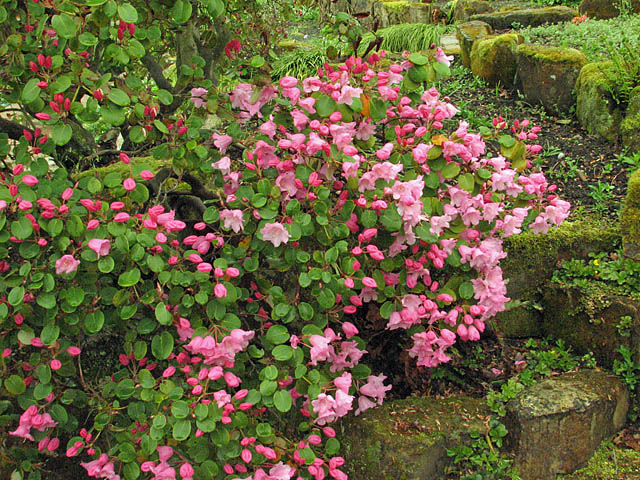 Rhododendron 'Temple Bell'

The rock garden and the potted collections also had many new things in flower, such as Trillium grandiflorum f. roseum: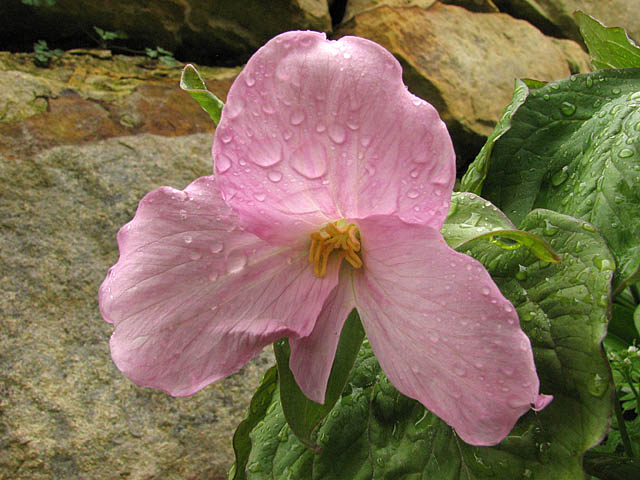 Trillium grandiflorum f. roseum

Close by is Uvullaria grandiflora. This is a lovely woodland plant from the eastern parts of the USA. It grows from rhizomes which clump but don't seem to spread invasively. It gets up to between 30 and 60 cm tall and is herbaceous in nature. The yellow pendant flowers are set off really well by the acid-green new leaves.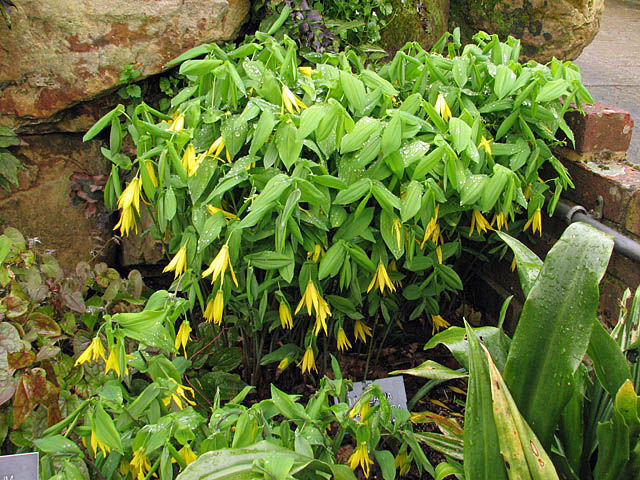 Uvullaria grandiflora

One large job finished recently concerned the Cyclamen coum bed. This is a large bed on the rock garden which has a mass of Cyclamen coum planted, but which in the past year or two had not performed as well as usual. We believed the main problem was that the bed had become very overcrowded with self-sown seedlings and the soil was also perhaps quite exhausted. There were also problems from invading bulbs such as some tulips, bluebells and others. So we decided to start afresh. Meg, with the help of some of the trainees, dug out all the Cyclamen and removed the invading bulbs. The area was then dug over and large amounts of leaf mould dug in to revitalise the soil. The Cyclamen were then replanted, suitably spaced. Let's hope all the hard work pays off in future displays!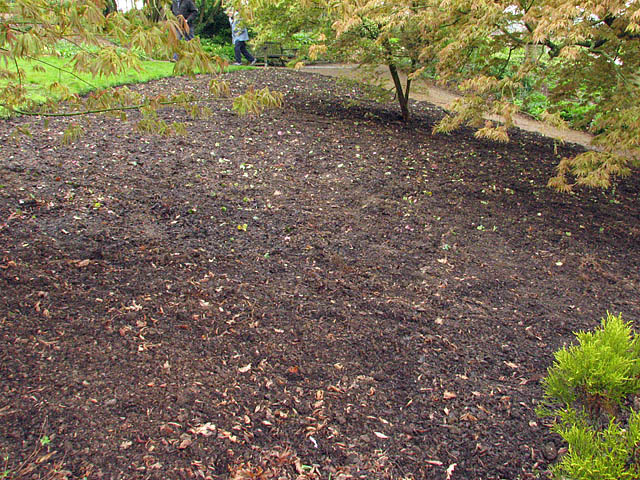 Cyclamen coum bed after replanting

Behind the scenes, you may remember that we grow many of our alpines in a house we call the Elliott House - the one in which I described making a sand plunge back in log 3 of 2007. This house can get too warm in summer and so to increase the ventilation we remove the sides of the house. They are polycarbonate sheets held on just by screws, so removing the panels is easy. Here is the job half done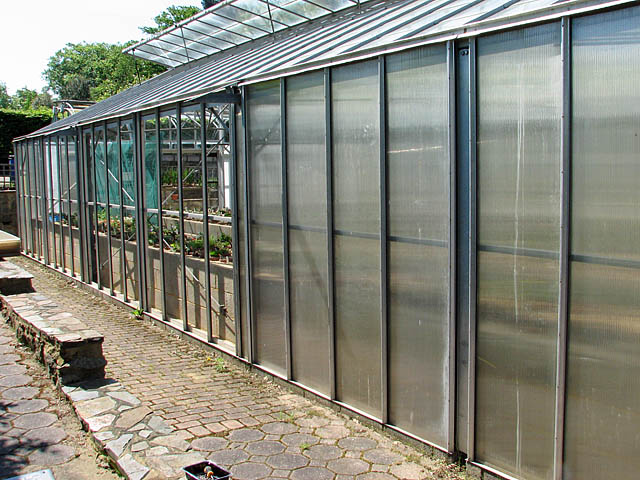 Elliott House sides being removed

One plant of interest just now goes by the fabulous name Tchihatchewia isatidea. This comes from Turkey. I got seed of this from Jim & Jenny Archibald a few years ago, mainly on the strength of the fact that they said it was a plant which used to grow well in the sand plunges at Wisley. That was many years ago and it hasn't been here since I joined the department. The seed - there were just six of them -was sown one autumn and left outside. Nothing germinated for 2 years but the next year 3 seedlings appeared. Another one appeared the next year and finally a further two have germinated this year. The three which germinated first are now in flower. Here is one of them: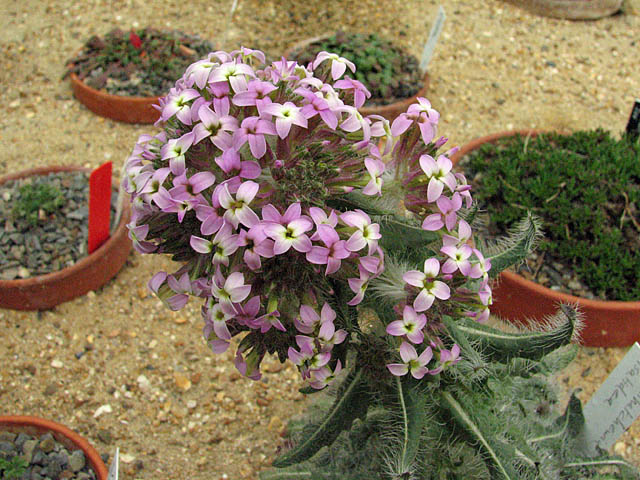 Tchihatchewia isatidea

The other two that germinated first both lost their main growing points, but this simply led to them sprouting several side shoots, all of which have produced flowers, giving an impressive overall display: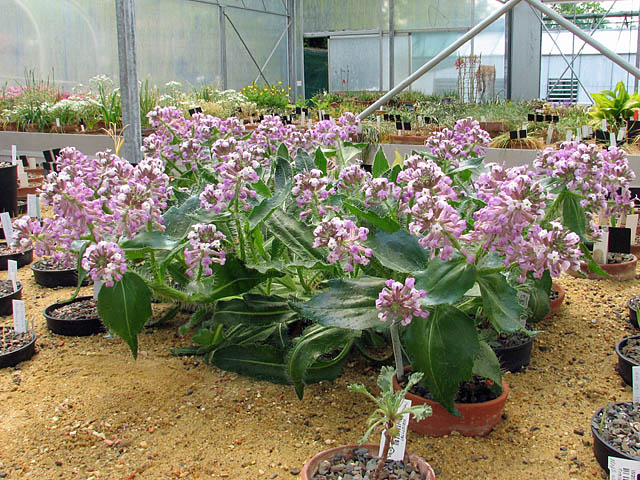 Tchihatchewia isatidea multibranched

They have a strong, not unpleasant scent. As these are usually monocarpic, I am hoping they set seed so we can keep them going long term.

The warm weather means we are watering a great deal more and the weeds everywhere are coming thick and fast. One member of the department loves the heat and finds the warmest place she can to soak it up - here squeezing between pots in one of the glasshouses: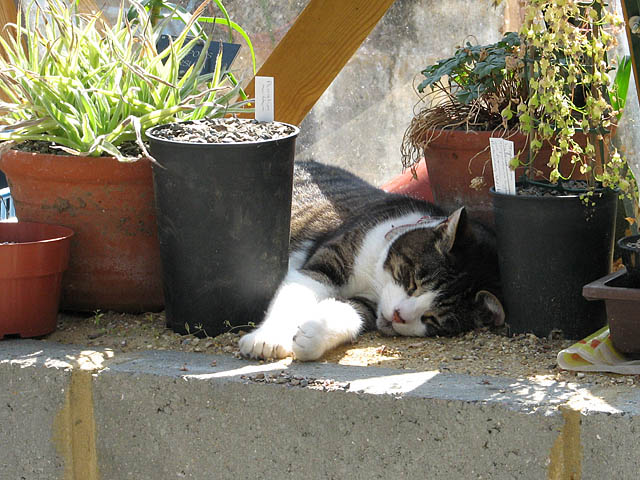 Sunny

In the Display house the warm weather means flowers have not been lasting as long so Kathryn has been having to change those on display more frequently. One eye-catching plant at the moment is Silene californica. This is usually a rather sprawling plant, not really suited to pot display. However Ron Ratko (Northwest Native Seed) discovered a population of a compact form and collected seed offered in his list a few years ago. This form comes true from seed and makes a really good pot plant: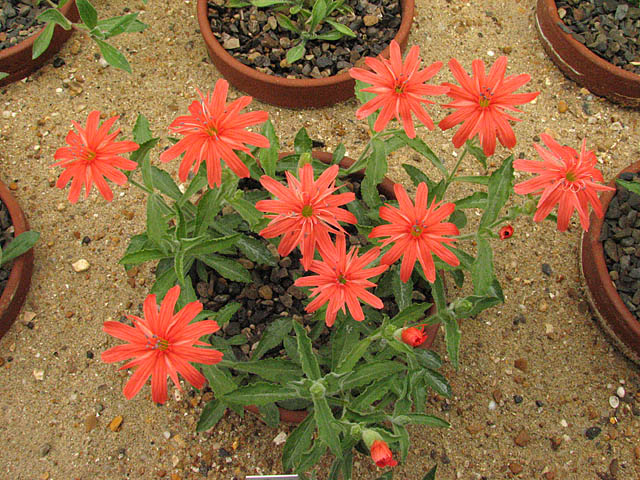 Silene californica compact form

Other plants of note at the moment are in our landscaped house, where they have no heat but are protected from winter wet. Sphaeralcea grossulariifolia is one of the globemallows from the western states of North America. It is a small, perennial shrub and our form has beautiful orange flowers, though they can be coral pink to a deeper orange. There are 15 species of Sphaeralcea in the intermountain region of North America, growing at elevations of about 4000 to 7000 feet and in hot, dry conditions. They are adapted to withstand drought by having roots which grow very deeply to access deep water. The whole plant - leaves and stems are covered in white hairs which reflect light and help them deal with high temperatures. It flowers from now until about August, sometimes even into autumn with repeat flushes of flowers. It must not be overwatered or it will rot off.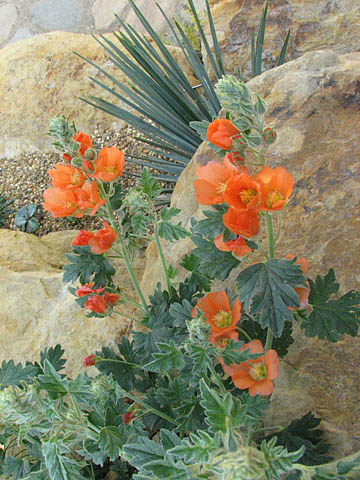 Sphaeralcea grossulariifolia

In the South African section of our Landscaped House is Aloe humilis, commonly called the Spider Aloe. It is one of the smaller Aloes that is dramatic in flower. It comes from areas in the transition zone between the summer and winter rainfall areas and over this range it is quite a variable plant.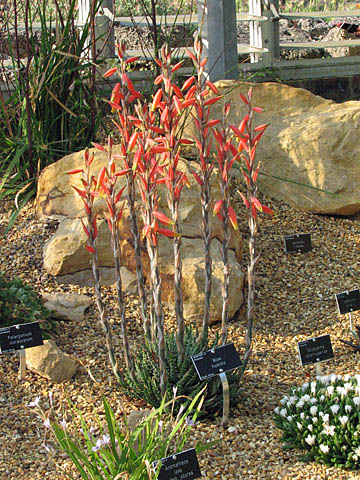 Aloe humilis

Finally this week we were sad to say goodbye to Meg Morgan, a highly valued member of our team. Her enthusiasm and hard work have contributed a great deal to the success of the department. We will miss her sorely, but we wish her the very best in her new job at a private garden in Oxfordshire.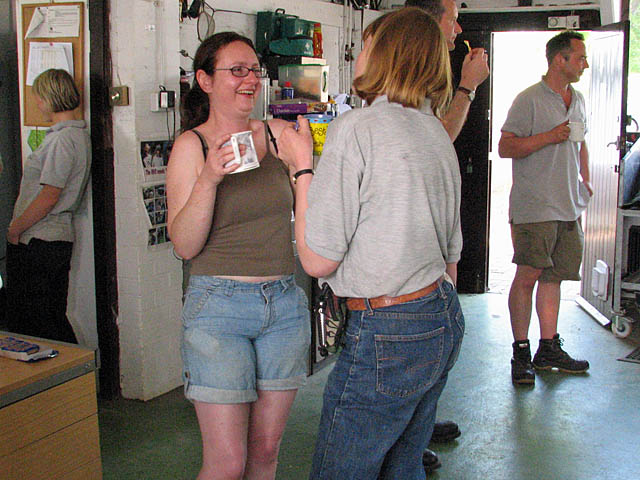 Meg (left)

Her place will be taken by Anita Drury, transferring across from the Woody Department. Anita has spent time with us before so we are glad to have her back. Welcome Anita!

^ back to the top ^