---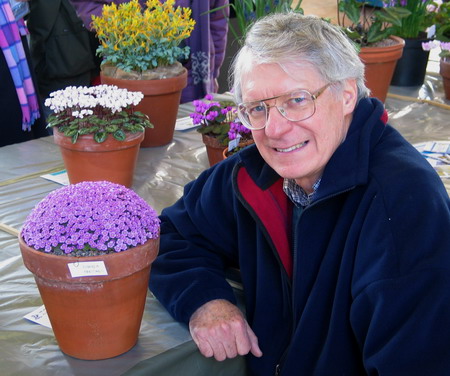 2006 is an 'even year', therefore AGS rules apply at the show which we hold jointly with the Alpine Garden Society. The top plant at Blackpool this year was awarded a Farrer Medal rather than a Forrest Medal. A magnificent dome of Dionysia freitagii exhibited by Derek Pickard from Stockton-in-Tees took the Farrer. The judges had several good plants to choose from but when it came down to the voting there was no doubt about which pant was going to win. Derek told me he became interested in alpine plants when he was thinking about retiring. After visiting several early shows he saw that good plants of Dionysia species often won top honours. Friends and exhibitors explained to him that from many growers found it difficult to grow Dionisias well. They advised him to hone his skills by starting with 'lesser genera' but Derek was concerned that as he was starting later in life than many others, the years spent learning might mean that he might not graduate to Dionisias. His work background equipped him with a mind that approaches projects in methodical way. He decided to ignore the advice and take the Dionysia plunge. He started growing Dionisias in 1997 and he concentrates on species Dionysia rather than hybrids. He raised the Farrer medal plant from seed. Experts tell me it is not the at all easy to grow such a large well flowered plant of D. freitagii as this. Derek had several other Dionisias on the benches and all were growing in long tom pots. His plant of Dionysia bryoides was awarded a Certificate of Merit. Well done Derek, yours is the example we should follow, not the advice of old cronies.



---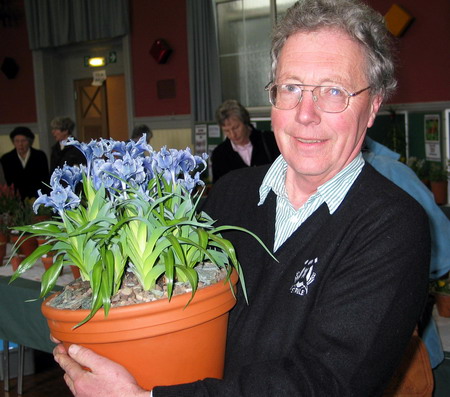 'STIRLING' SHOW IN DUNBLANE 2006> James Cobb from Kingsbarns in the East Neuk of Fife made a welcome return to our show and stamped his mark on the show circuit be claiming the first Forrest Medal of 2006 with a superb plant of Iris nusairiensis. Many of you will know James Cobb as the author of the excellent Meconopsis book. His dedication in the book, to his wife is as apt today as when he wrote in 1989, "For Calla, the perfect gardener's companion" Naturally, the plant was in excellent condition and was exceptionally well flowered. Jim said that he credited the recent very cold weather for the superb number of flowers on his plant. He remarked that usually the first flowers opened and then faded before the second buds on each stem opened. This year because of the cold, the first flowers were still open when the second buds opened, doubling the impact. David Mowle gave him a small plant of Iris nusariensis about 20 years ago during a visit with Jim. It grew in a bed in his alpine house for many years before it was lifted, split and this part grown in a pot. The tuber is rooted into compost at the bottom of the pot ant the whole top half of the pot is filled with grit. Now you know the secret….. First get your plant! Iris nusariensis grows in Syria and the middle East, so it must have wondered how it came to be in Dunblane on a cold grey wet Saturday morning in March. Well done James. You have supported our show since its inception and no-one deserves the top award more than you. [PS At the 2005 Blackpool show, Lionel Clarkson won a Forrest medal with his plant of Iris nusariensis. I apologise for spelling its specific name incorrectly as 'nusariensis']


---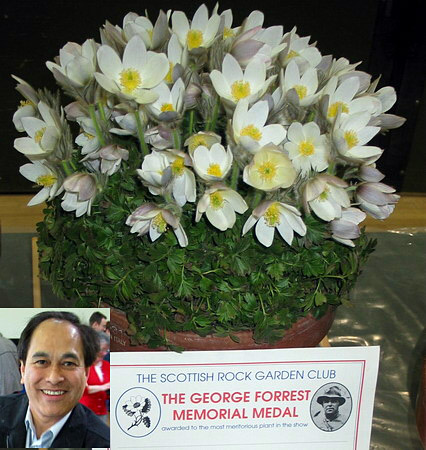 Forrest Medal at HEXHAM The border raider strikes back. Cyril's Pulsatilla vernalis is triumphant at the Northumberland show. While Cyril himself could not get to the show tow good friends [Yes it takes two to carry that big pot and to guard the plant] John Lee looked after the Pulsatilla during the week from the Dunblane show, where it was just below par. John prayed that it would enjoy a week in Glasgow, European City of Light, 2006. He and Bill Robinson drove it to Hexham and were rewarded by seeing it receive the Top award. I have written about Cyril's Pulsatilla vernalis each time it won a Forrest. This is certainly its 3rd Medal and maybe its 4th. I will have to ask Cyril.
Pulsatilla vernalis grows from Norway, down through the Alps and well south into Italy. We are told that the Norwegian forms flower best in Scottish gardens. This is by far the best form and biggest example that anyone at Hexam had seen. As we know, Hexham is a Roman town and is just south of Hadrian's wall.
Harry Lauder went ''Roamin' in the Gloamin' on the bonny banks of Clyde''. John and Bill took Cyril's vernalis '' Roamin' in the Dawnin' on the floodin' banks of Tyne.''

Well done again Cyril for growing such a great plant and well done the transport team for successfully caring for it.


---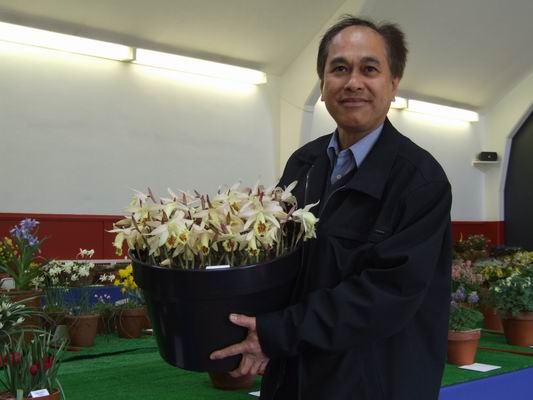 Forrest Medal at Edinburgh As is so often the case at our Shows it is not who will win the Forrest Medal but which of Cyril Lafong's plants will win it, and the Edinburgh Show on Saturday was no exception. It did not take the judges too long to vote for the biggest pot of Pleione x Shantung any of us had seen before; as is the case with all Cyril's plants no fault could be found by the Judges. From a personal point of view I thought there were too many flowers and it was difficult to see their individual beauty - I believe he could have taken half of them out and still walked the Medal.


---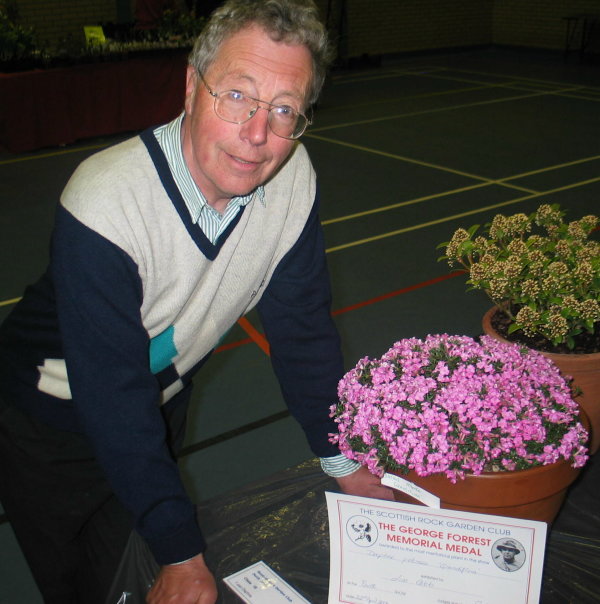 FORREST MEDAL PERTH 2006
The lines on the courts behind him might be telling us James Cobb's secret. Has he been training? Has he been training his plants? No! James has been caring for and carefully nurturing them. His huge plant of Daphne petraea grandiflora is around 15 years old. The plant was a gift from the talented Margaret and Henry Taylor many years ago. Henry had grafted it and when I was established gave I to James who grew it on but when the time came to repot it he decided, that since Daphnes don't like to be repotted, that it should go into a big pot. Here it has grown steadily till now. A native of the mountains round Lake Garda in Northern Italy, Daphne petraea does not reach this size in the wild. Instead it grows in cracks in the rocks. Grafting id the usual means of increasing good clones. This is an old clone which has been successful for many growers. The tips of the flower petals are slightly curled over. James said he though he had won nothing as when he returned to the show, his Forrest Medal card was lying flat. He was delighted when he reached his own Daphne and realised that he had won again. Well done again James. As you can see the pot is too heavy to lift and smile at the camera at the same time, so he stood beside it.


---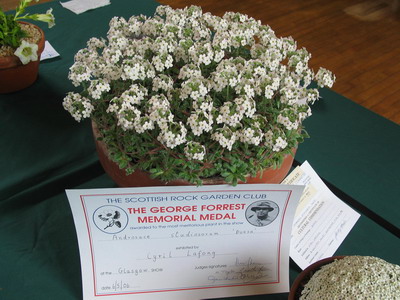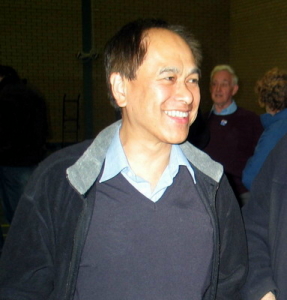 Glasgow Forrest Medal Cyril Lafong has triumphed again….again! His superbly grown and presented pan of Androsace studiosorum 'Doksa' was the runaway winner. Unlike many other show Androsace this one is not a cushion former. Its habit is like that of a small strawberry in that it has numerous runners which form new rosettes where they meet suitable habitats. Its flowers are typical Androsace but are held in 'umbels' on 2-3 inch stalks. All [more than 100] the flower stems were in perfect condition and all the runners had been kept within the body of the plant and its pan. I was so relaxed at the Glasgow show that I forgot to photograph Cyril with his plant but I have included a snap of him looking relaxed at Perth. Androsace experts will know that A. studiosorum is usually pink flowered. This fabulous white form was collected in the Himalaya [Doksa Pass] by Margaret and Henry Taylor. They were as delighted as Cyril at the success of their introduction. Once again, Well done Cyril!


---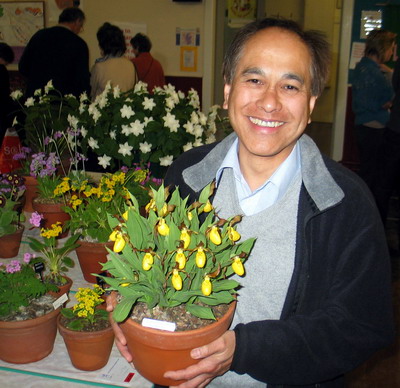 Aberdeen Forrest Medal Cyril Lafong has again shown the top plant. His Cypripedium parviflorum pubescens was admired from the moment it was placed on the bench. It was obviously 'the plant to beat' and the 'plant which I most wanted to take home'. Innumerable stems of golden ladies' slippers in perfect condition sat perfectly upright in their half pot. The only other pan of this species of any size which I remember was one exhibited by the late SRGC president Joan Stead at a Glasgow show but that pot contained fewer flowers than Cyril's pan. Why is is called 'parviflorum? According the US government it grows in most Us States except Florida, Oklahoma, Louisiana and California, Nevada and Oregon although it only grows in one county in Texas. I did not check out counties in the other states. Since it is so widespread it is not surprising that it varies. Cyril's plant is a splendid form. The American's sometimes refer to it as a sub-species of Cyp. Calceolus but Cyril's name is the correct form [for now?]. Incidentally for those who want to see pictures of cypripediums and probably any American plant in the wild go to www.http://plants.usda.gov. I did not mean to wander away from the Forrest medal plant but if you check out the US government's pictures none is as good as Cyril's plants. Once again all credit to Cyril Lafong for producing another fabulous plant. Without his contributions w would not be able to see the full potential of many plants.





---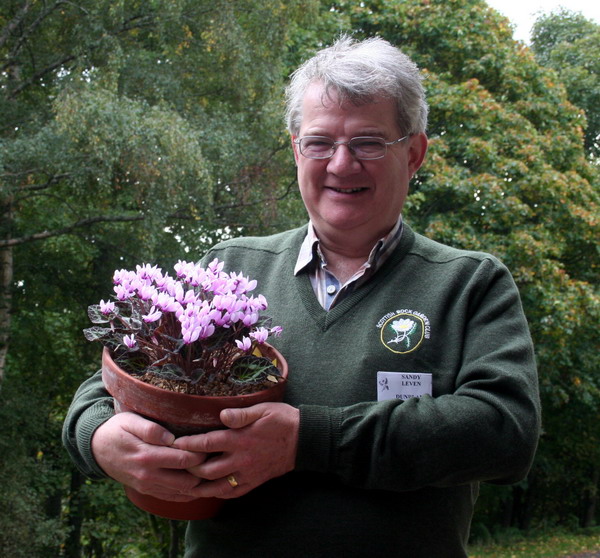 Pitlochry Discussion Weekend Show Cyclamen graecum shown by Sandy Leven won the Forrest Medal at the Pitlochry Discussion Weekend show. This plant had never looked better. The long hot summer is probably the reason why it flowered so well this year. Normally it has more leaves and fewer flowers although this strain does seem to flower better in the north than do some others. The plant is kept plunged in a frost free greenhouse which is lightly shaded in Summer. To maintain its long tap roots I follow Glassford's advice and keep the sand plunge slightly damp at all times.

The winning plant was one of two put into the 1999 Stirling Discussion Weekend plant auction by Mrs Alice Spensley from Richmond whose own plant of C. graecum won the Forrest medal in 1982, 1985, 1988, 1989. In the auction the bidding was keen. The first plant went to Maggi Young and I got the second one. The young plant was probably about 5 years old when it was bought thus making it 22 years old now. Like it parent it has leaves with wonderful patterns and pale pink flowers with a deeper coloured nose. A few years ago at the SRGC /AGS show in Ponteland it won the Christie trophy for best foliage plant.

This year John Amand put a large plant of Cyclamen graecum into the Auction and I bid successfully for this one. I wonder if in 22 years time it will win a prize?

It is interesting that when Mrs Spensley's success were written up in the SRGC journals the show repots were much shorter and often merely a note of the prize inners. In the journal report of 1982, Mrs Spensley became Mr Spensely and in 1985 she metamorphosed into Mr A.R. Spenceley but they were all Alice Spensley of Richmond who grew her magnificent plant from Crete in her front porch!



---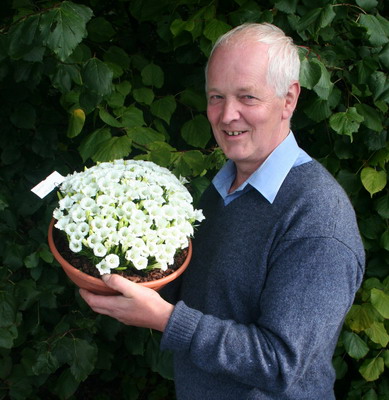 FARRER* MEDAL AT PONTELAND
Nurseryman Ian Christie went right to the top of the class at this year's Joint SRGC / AGS autumn show. His wonderful plant of Gentiana 'Limelight' beat everything else on the benches to win the AGS equivalent of a Forrest medal - a Farrer medal. Named after the famed plant hunter and writer the Farrer medal rarely comes north of the border.

Ian's plant was part of his 3 pan entry along with another two of his introductions, G. 'Blue Streak' and G. 'Saltire'. These other two have alternate petals and plicae in blue and white. 'Blue Streak' in the better defined of the two.

G. 'Limelight' is white flowered but the streaks on the outside of the petals which are seen most prominently on the new buds are green. The mixture of green and white gives the plant its distinct colouration and name. It is a wonderful plant. Already this month I have seen it at the Discussion Weekend show at Pitlochry where the RHS Joint Rock Garden Plant Committee recommended a Preliminary Commendation as a plant for exhibition. Then it was at the RHS Gentian Day at Harrogate where it was much admired by members of the RHS Committee who were not at Pitlochry. During its progress it just got better and better despite innumerable flower having been removed.

Ian was presented with his medal by John Richards, the retiring AGS President and Ponteland show secretary Mike Dale commented on how appropriate it was that Ian, who has been nominated as SRGC President, won the top prize.

I have resisted till now saying that, 'Ian stole the limelight at Ponteland' when the truth is that Ian raised G. 'Limelight' at his nursery at Westmuir by Kirriemuir. Well done Ian! You too will be in the limelight for the next 3 years at least.

* in alternate years a Forrest or a Farrer medal is awarded at our joint shows.

^ back to the top ^