---
---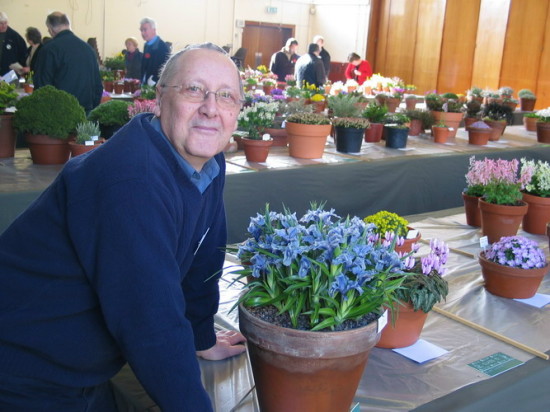 Show Secretary Lionel Clarkson won the Blackpool Show George Forrest Memorial Medal of 2005 at his own show in the school where he worked until recently. You can't get more home grown than that! His plant of the pale blue Iris nusariensis was simply magnificent. It truly did, stand out from the competition. A relative of Iris aucheri it comes from as far away from Blackpool as an Iris might. It is a native of Syria. To my mind Syria and Blackpool have 3 things in common - Sand, good light and rock. Syria can't compete with Blackpool's rock but I bet there isn't a clump of iris like Lionel's in Syria. Innumerable light blue softly textured perfectly complimented the shiny light green foliage. After judging when the judges found out whose plant ha won, Lionel was accorded a generous round of applause. Well done Lionel! A fine plant from a fine grower. When asked to hold it for the picture, Lionel said it was so heavy that we agreed to let him pose beside it. After all he still had the show to run and we did not want him to rick his back!

---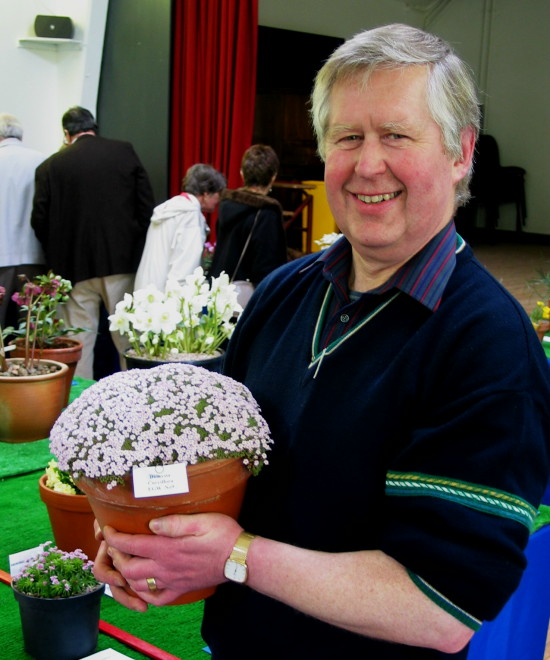 Forrest Medal At Edinburgh goes South of the Border
I was going to write that 'Alan chopped the opposition down to size and had the judges in a stew and did not mince about as he 'steaked' his claim to the medal.' but I you would not appreciate it. A magnificent plant of Dionysia curviflora EWG No9 won the coveted Forrest medal for Alan Newton. EWG was Eric Watson, the former SRGC president who died recently. Eric was one of only 7 growers who have won the coveted Silver Forrest medal. E would have been delighted with Alan's plant. Along with other Northumbrian growers Alan mounted a cross border raid on the Edinburgh show. They brought wonderful pants with them. Pride of place went to Alan's curviflora which was completely covered in pale pink flowers, the only green showing where a few flowers still had to open. Beautifully presented with some rock on the surface of the pot I suspect the plant will regularly win the AGS 'cushion shown for natural effect' classes. True natural effect might be hard to achieve because it grows on shaded basalt or volcanic cliffs in Iran. It used to be grown mainly as a cushion plant because it had a reputation of being shy flowering. Recently collected clones apparently flower more easily but you have to have skill to produce a plant as large and well flowered as Alan's. A well deserved triumph!

---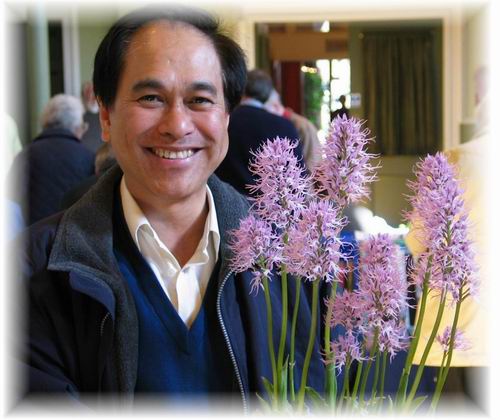 Cyril Lafong does it again with Orchis italica winner of the Forrest Medal at Stirling. Orchis italica is widely distributed throughout the Mediterranean countries on all four shores of the sea. It is found in poor grassland over stony soils. Well done again Cyril!

---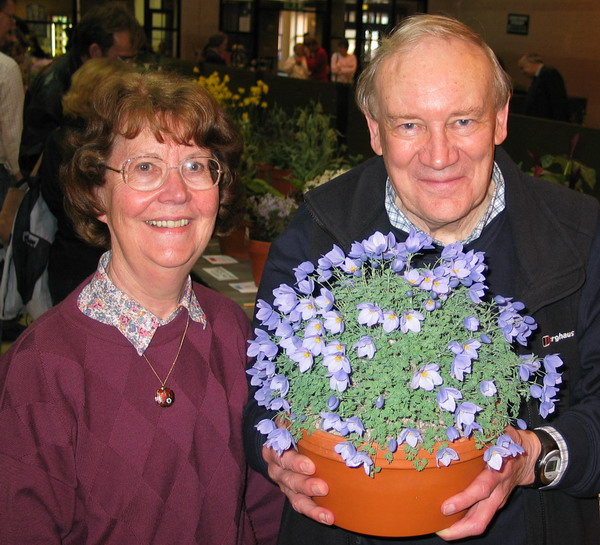 Mike and Christine Brown's plant of Paraquilegia anemonoides took the Farrer Medal at Hexam. [this year the show was held under AGS rules] . They triumphed with a superb example of a fabulous plant which many of us love and grow. Paraquilegia anemonoides is one of the most beautiful of all alpine plants and in Scottish minds is inextricably linked with Branklyn Garden in Perth. The medal winner was shown in a 12" half pot and was well covered in delicate lilac flowers. One of the largest of this species to appear on the benches for many years it was faultless. Delicate finely divided foliage providing a subtle foil for the blooms. Native to mountains areas stretching along the Northern edge of Himalayan chain from the Pamirs and Tien Shan eastward to Gansu province in China: i.e. much of Southern Western China . Before triumphing in the run off for Farrer medal status the plant had to be judged against its sister in another class, both seedlings purchases for Aberconway Nursery several years ago. This makes them offspring of the late Jim Lever's Farrer Medal plant. Apparently Mike favoured one and Christine the other! Whose won? What price silence? My lips are sealed. Sufficient to say that the judges were unanimous in their decision for best plant in show and that could not have been easy because there were so many great plants at Hexam. Congratulations to both for triumphing with this superb plant.

---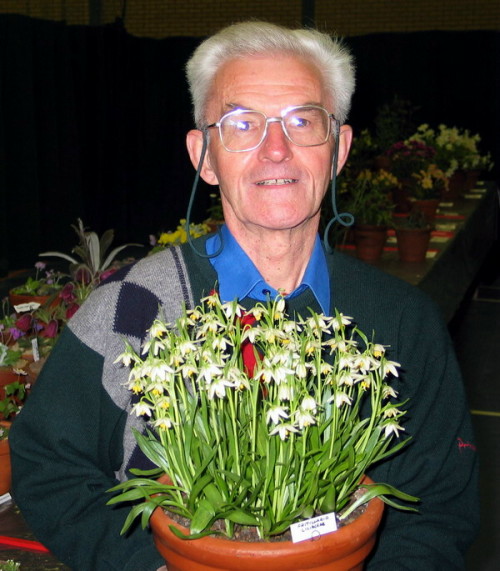 Appropriately Fred Hunt's middle name prepared him for Stardom in the world of Rock Garden plants. Fred has won more Forrest medals than anyone. He is THE MAN. His plants are THE PLANTS. Fritillarias are one of his passions and he has skill and patience to increase one or two bubs up into a world class panful. which will hold its own in any company. At Perth it was the delightful Californian Fritillaria liliaceae, which brought Fred his most recent Forrest Medal. Now very scarce, even rare, in its native territory, the costal hills, from San Francisco Bay down to Monterey, it is just as well that it is amenable to cultivation and that our top growers cherish it. It is difficult in this picture to appreciate the blends of cream, pale green and yellow in the open bell shaped flowers. What a pity Reginald Farrer lived too soon to see Fred Hunt's plants, otherwise he would never have written of Fritillarias, 'the family all round has a bad character'. Farrer however lived before Fred and before Wayne Roderick who brought many delightful Californians into cultivation. Had Wayne seen how much Fritillaria liliaceae grows for Fred he would have been delighted. Well done Mr Hunt for showing us how a pan of bulbs should look.

---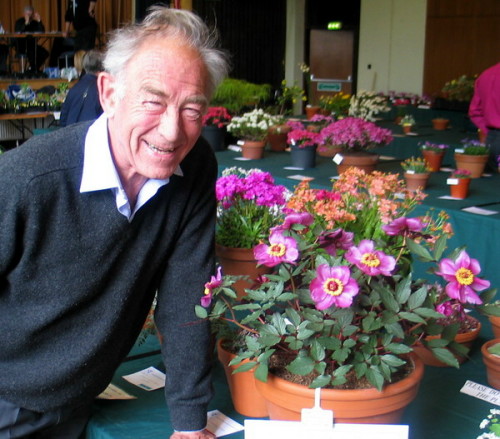 Paeonia cambessedessii is not often seen on our show benches. The finest plant I have seen took the Forrest Medal at Glasgow. Exhibited by Brian Davidson, the plant was the focus of attention in the centre of the hall. A plant from Majorca and Minorca might not be expected to be hardy in Scotland but this beauty is an exception. It has the most beautiful shiny bowl-shaped reddy - pink flowers with a typical paeonia boss of yellow stamens surrounding the pink anthers. If you think the flowers are great take a gander at the leaves. Metallic blue green with red midribs on red stalks, these leaves are magnificent. For good measure they are gently reflective giving the plant a thoroughly modern appearance. Well done Brian! Thank you for making our day as well as yours with such a superb specimen.

---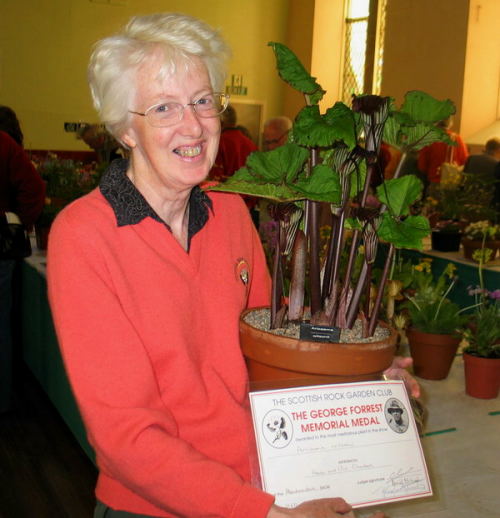 FORREST MEDAL AT ABERDEEN Anne and Viv Chambers triumphed at Aberdeen with their magnificently sinister plant of Arisaema wilsonii. Just look at the fabulously rich colours in the flowers and stems! Strong shiny maroon columns supporting the hooded spathes from which glared out the whiplash spadices. Arisaema wilsonii is one of more than 130 species not mentioned in the AGS Encyclopaedia of Alpines, no doubt because it is a plant of Sino-Himalayan forests. Closely related to A. elephas it is a wonderful plant. Growers of these 'beauties' know how difficult is to keep the leaves in pristine condition. These monumental plants seem to bridge the gap between the plants and animals. Anne & Viv are to be congratulated for growing this 'colony' to perfection. I would win top prize in a class for flower or foliage or curiosity. I think it would even win a 'best pet class'. Well done both!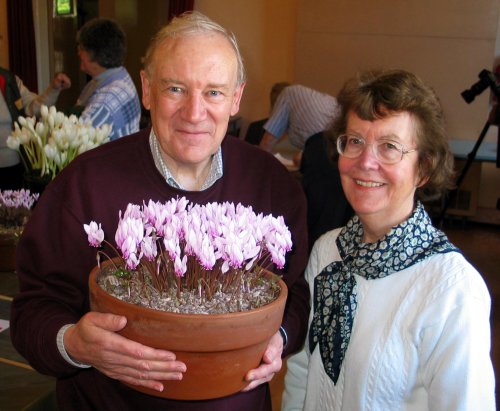 Forrest Medal at Ponteland Newcastle Autumn SRGC/AGS Show

Mike & Christine Brown continue to reign supreme at Ponteland, confirming their reputation as growers of magnificent Cyclamen. This year their wonderful pan of Cyclamen hederifolium confusum scooped the top award. Shown in a 12" pan the lowers vied for space. Three quarters of the pot was covered with beautiful pink slightly twisted flowers, each one robust and sturdy. The leaves were just appearing around the edge of the pot. I noted with interest that it is grown in a 'half pan'.

Quite recently Christopher Grey-Wilson separated Cyclamen hederifolium confusum from Cyclamen hederifolium as a sub-species. It is tetraploid [hederifolium being diploid]; its distribution is in the southern range of hederifolium; its leaves are generally much thicker and bigger ; the leaves are shiny on top; it grows in separate populations from 'usual' hederifolium. In the picture you can see how shiny the new leaves are going to be. Congratulations again to Mike and Christine for staging such wonderful plants. Last year they won the Farrer medal at Ponteland with a fabulous Cyclamen hederifolium album. At joint SRGC / AGS shows Forrest and Farrer medals are awarded in alternate years.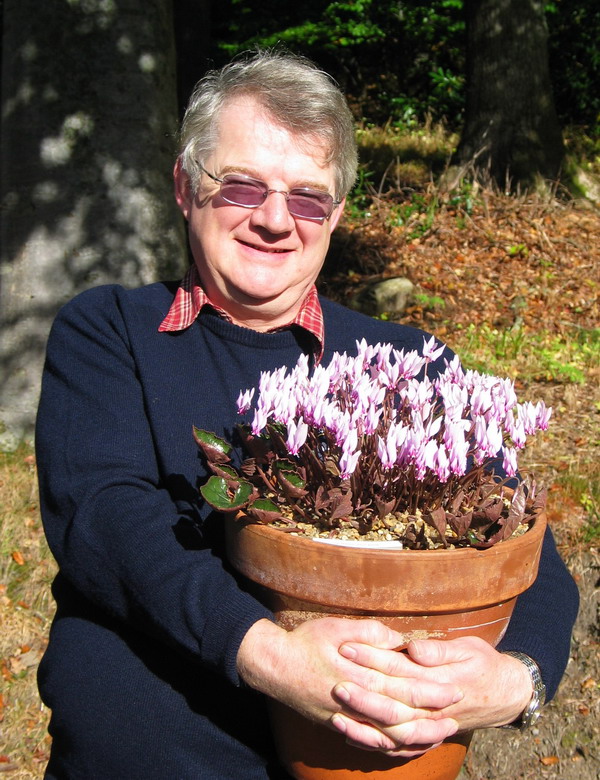 Forrest medal at Pitlochry Discussion weekend show

The last Forrest medal of the 2005 show year was awarded to Sandy Leven's plant of Cyclamen africanum. This plant has been a good friend to the exhibitor. It is at its best just as the leaves start to emerge. It starts to flower without the leaves and looks a bit naked. Later in the month the leaves can overwhelm the flowers. Flowering a it does late in the year the flowers can last well into November. If they fall on leaves and are allowed to lie there fungus can start to grow and destroy the leaves. Regular repotting and careful removal of dead flowers are the main requirements. It would not appreciate hard frosts. Far from its Algerian home it looked happy at Pitlochry. With a bit of global warming Cyclamen africanum might do well in the garden!

^ back to the top ^