---
Bulb log 46 17th November 2005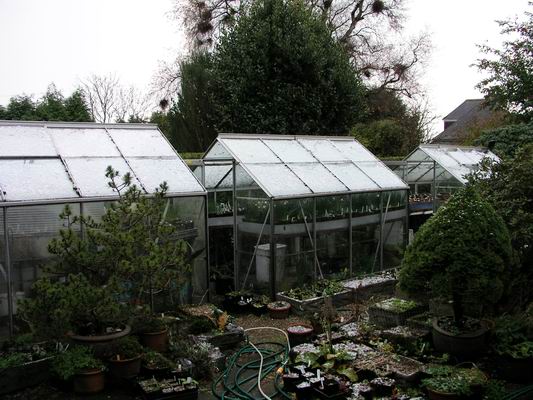 First snow fall


This morning we were greeted by the first light dusting of snow, with temperatures to match, at around zero degrees C. This will slow down all the bulbs that have been racing into bloom encouraged by the mild temperatures of October and early November. It is also a warning to me that I am behind on my garden work as the hosepipe is still out and pots of recently sown seed are still lying around on the paths instead of in a frame.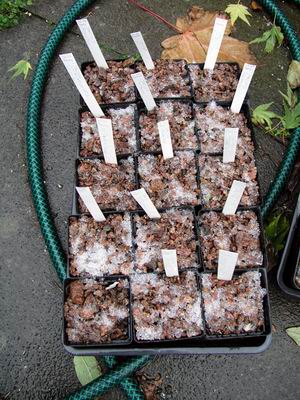 Seed pots


I always leave my seed pots out to take the weather as the swinging temperatures with cold nights and cool days helps bring many seeds out of their dormancy and a cold winter is always followed by a better germination rate. The trouble is that I have several boxes like this, each one containing 15 seed pots, to find a home for and, as I am sure you all know, space is the last thing we take into consideration when we see a seed list.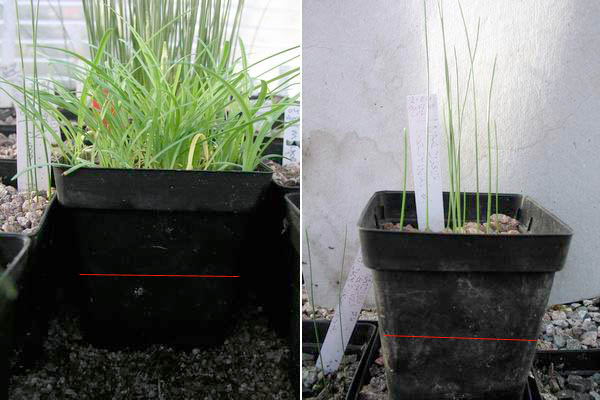 Seed sown deep


Some seed has already germinated and some other pots with last years sowing are also in growth, like the two shown above. I want to reiterate the seeds that I sow deeply, that is about 5cms deep - the red lines above indicate the depth that I sowed these Ipheion and Narcissus seeds at last year. I always sow my Crocus, Colchicum, Ipheion, Narcissus and Tecophilaea seeds at depth - there may be others that would benefit from this method but I have not yet carried out the test. Those that require surface sowing for best results include Fritillaria, Tulip and Erythronium. I have been surprised by some of the results of my trials as I thought that Erythronium would like it better if the seeds were sown deeply but my trials indicate that Erythronium seeds sown at depth do not germinate - I now suspect that they may need light to germinate. There is so much work to be done if we are to discover the optimum method of seed sowing for each genus, so do your own trials and post your findings on the forum - that way we
can all benefit from the shared knowledge. If you are not sure whether to sow on the surface or at depth then it is better to surface sow because all seeds will germinate at the surface but not all seeds will germinate if sown deeply.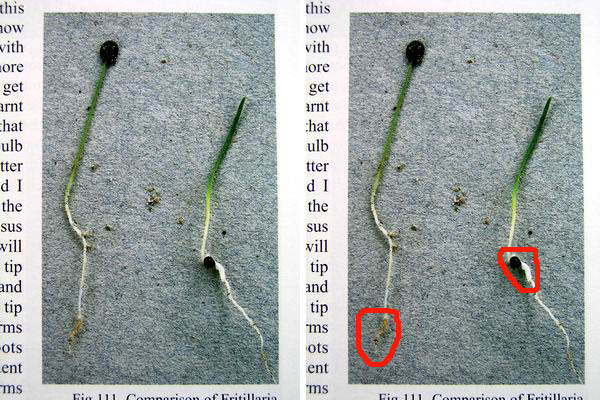 Fritillaria and Narcissus seedling


I have discovered that the tiny first bulb, from seed that requires surface sowing, like Fritillaria, forms at a depth of around 5cms at the end of the young root (left above) while with seed such as Narcissus the new bulb forms beside the seed and the root extends down from the tiny new bulb (right). This is an illustration from my article on growing bulbs from seed in 'The Rock Garden' number 108, the twice yearly Journal of the SRGC, where I discuss sowing depths. I have circled in red the newly forming bulbs.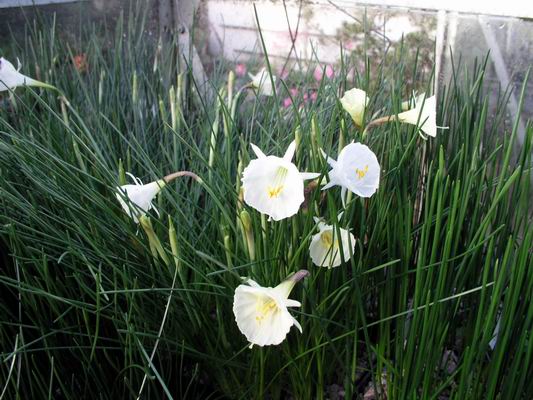 Narcissus romieuxii mesatlanticus


In the bulb house many narcissus are now coming into flower like Narcissus romieuxii var. mesatlanticus. I am convinced now that this is a hybrid between Narcissus romieuxii and Narcissus cantabricus. It would seem to be intermediate between these two species, it looks very similar to other hybrids of this parentage that I have and it has a similar scent. Yes, scent, one of the most underused features of a plant when it comes to diagnostic features used by the taxonomists to distinguish the species. Narcissus cantabricus has a strong sweet scent, Narcissus romieuxii has a slight bitter scent and Narcissus romieuxii var mesatlanticus has a light sweet scent.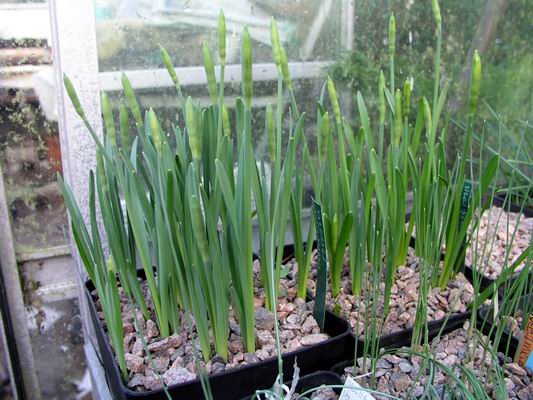 Narcissus Cedric Morris


The buds of Narcissus 'Cedric Morris' are well formed now and would open in a week if the temperatures had remained warm but now the cold is here they may not open until Christmas. The problem with this is that the stems will continue to grow slowly even in cold temperatures and we will end up with a tall plant; it is much better when we have a cold start to the season then we get the miniature yellow trumpets on nice short stems.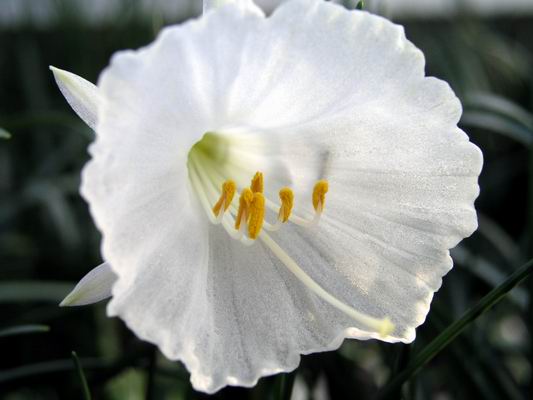 Narcissus romieuxii ssp albidus var zianicus


Another of the narcissus to open its first flower is this large white form of Narcissus romieuxii ssp albidus var zianicus. I have never quite worked out the logic behind the naming of this plant; why is it a white sub species of romieuxii and not a form of N. cantabricus? The more I read about the naming of the hoop petticoats the more confused I become.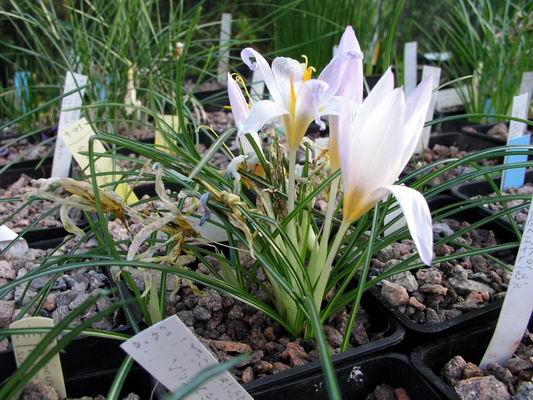 Spent crocus flowers


There are still some crocus flowers about but many are now spent, sometimes collapsing onto the foliage.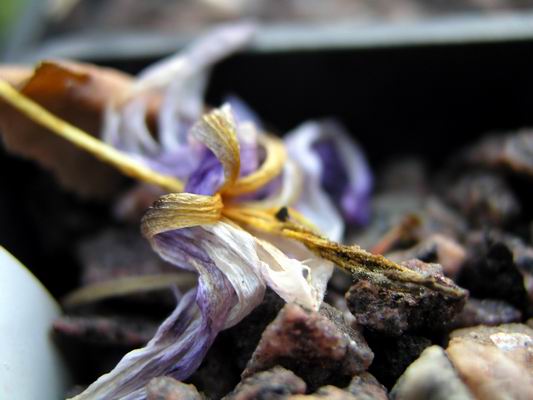 Mould on pollen


As you can see above it is not long before botrytis forms on these spent flowers starting on the pollen here. It is an essential task to remove all the spent flowers with a sharp tug, placing the fingers of your other hand on the gravel to prevent disturbing the corms and roots below.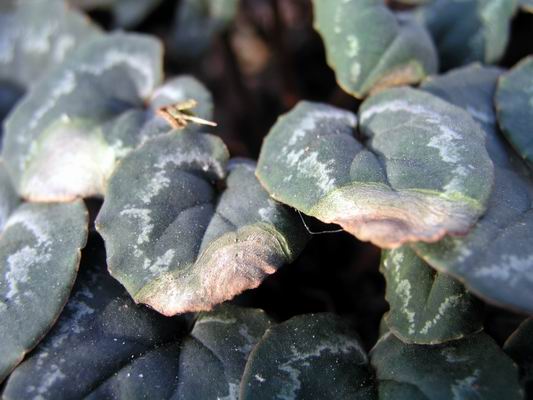 Damaged Cyclamen leaves


It is not just the Crocus that we need to remove the dead flowers from - these cyclamen leaves have been damaged by botrytis because some of its dead flowers had fallen onto the leaves which caused the spread of this infection.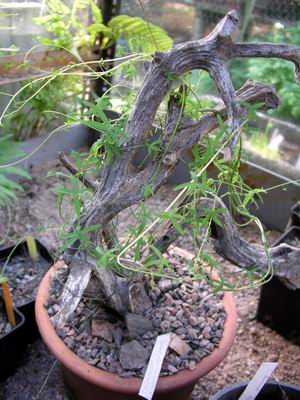 Tropaeolum azureum


Tropaeolum azureum has made good growth, twining up a bit of dead juniper branch brought back from a hill walk many years ago.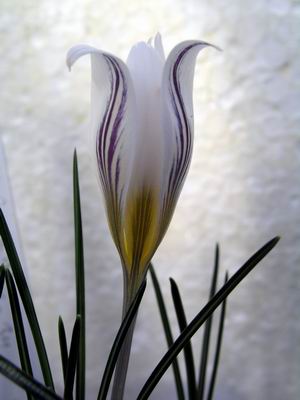 Crocus biflorus melantherus


An unusual flower on our Crocus biflorus melantherus with its outer three segments curving outwards gives it a very different look from the usual crocus.




^ back to the top ^