---
BULB LOG 12 20-0304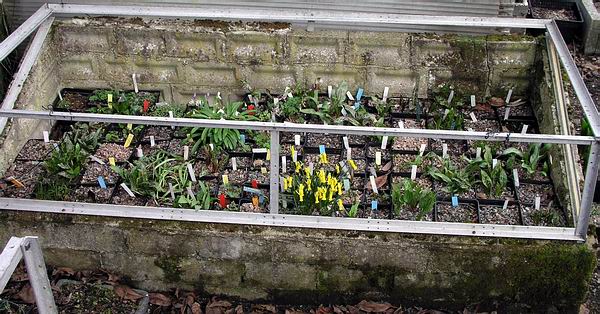 Frame 1



I thought that we should have a quick tour of some of the frames to see how growth is doing, then you can compare it to your own plant growth. Frame 1 is full of erythroniums to the right with corydalis and trilliums as we go left, plus other plants that like a cool frame, such as the Narcissus cyclamineus.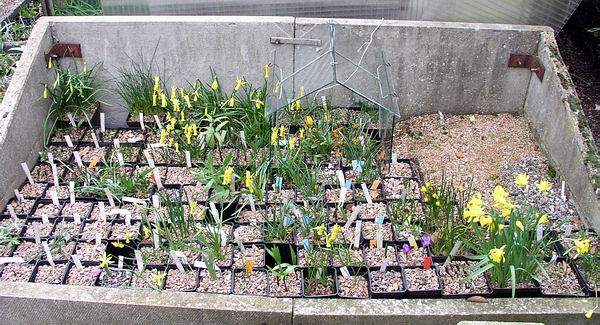 Bulb frame



Most of the narcissus are in the Bulb frame which is in a sunnier spot in the garden and as well as the narcissus we have fritillaria and crocus species. All are in plastic pots except for the top right hand corner where the Crocus scardicus and pelistericus are plunged in mesh pond-baskets - they are just starting to show through the plunge.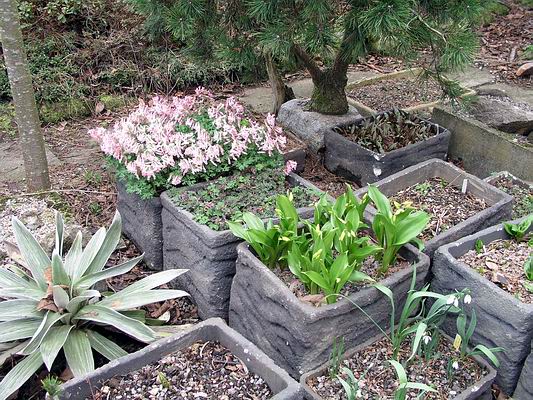 Fish boxes




Our favourite containers are these deep polystyrene (styrofoam) fish boxes which are excellent for growing erythroniums and corydalis. Here the first form of Erythronium tuolumnense is just opening.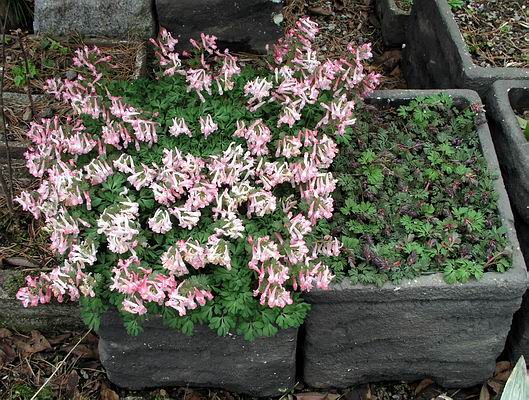 Corydalis 'Beth Evans & George Baker'.



This picture makes it easy to compare how Corydalis 'Beth Evans' flowers ahead of C. 'George Baker'. They do have an overlap as George Baker comes out just as Beth Evans is going past its best.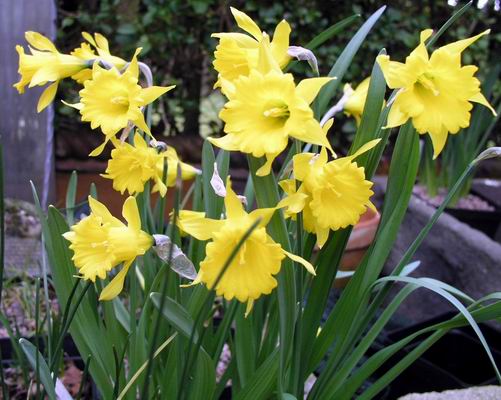 Narcissus perez-chiscano.




A very nice dwarf trumpet daffodil is Narcissus perez-chiscano and I have to admit I am going to go and read up about it as I cannot remember any details- that is the thing about plants you never know it all and you certainly never remember everything about them.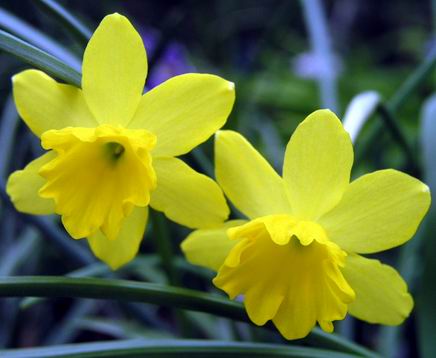 Narcissus rupicola marvieri



If only you could smell this one, it has such a sweet scent. This form of Narcissus rupicola has a longer and broader corona than the normal species so it is called ssp marvieri - it originates from North Africa.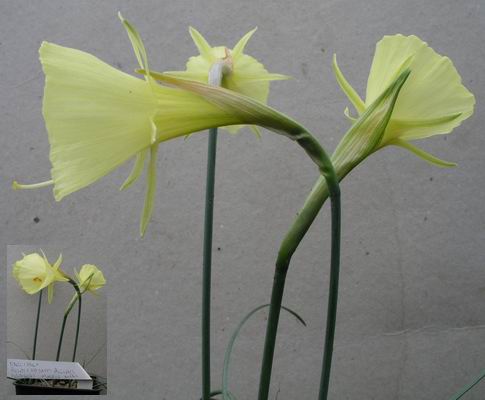 Narcissus bulbicodium pallidus.



Also from North Africa, this lovely form of Narcissus bulbicodium comes from Morocco.
As you can see from the small inset picture, Narcissus bulbicodium pallidus is not a tall plant, but it has huge flowers (fully 4cms across) that resemble in colour some forms of N. romieuxii. While it is superficially similar to romieuxii, it is very distinct in other ways and could never be mistaken for N. romieuxii.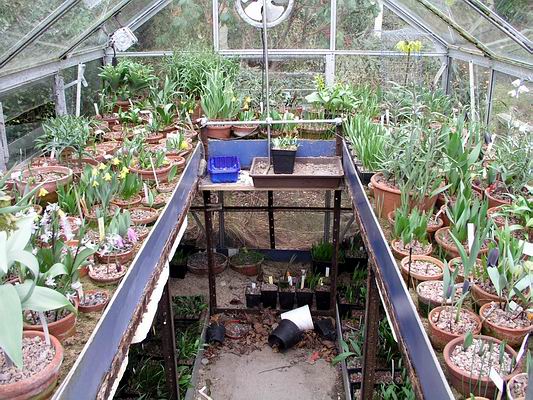 Frit house




In the frit house growth is accelerating and a number of them have open flowers now but if you check back to bulb log 12 last year you will note that this years growth is about two weeks behind.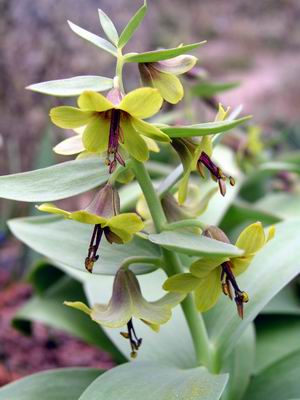 Fritillaria sewerzowii.




This is a pot of seedlings of Fritillaria sewerzowii grown from seed collected by a friend in the Karatan Mountains of Kazakhstan and sown in November 1996. They are just starting to flower now six years after germinating.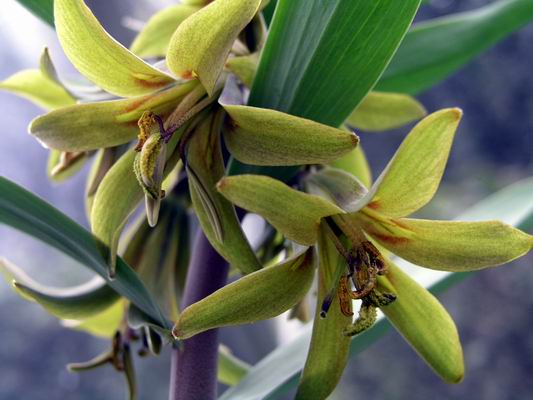 Fritillaria sewerzowii lilieflora seedling




This is an outstanding form of Fritillaria sewerzowii that I got from Janis Ruksans that he called 'lilieflora seedling'. It has very large flowers for this species, 6cms across, two or three times the normal size.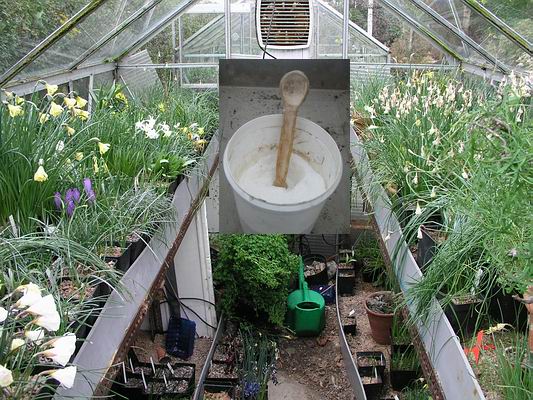 Potash feeding




The view of the bulb house shows that the winter flowering narcissus are going over now and the inset is to remind you to get feeding again with the potash. It is now, as the flowers are fading and the seed pods are swelling, that the bulb growth that will sustain next year's flowers is taking place, so food and water are essential.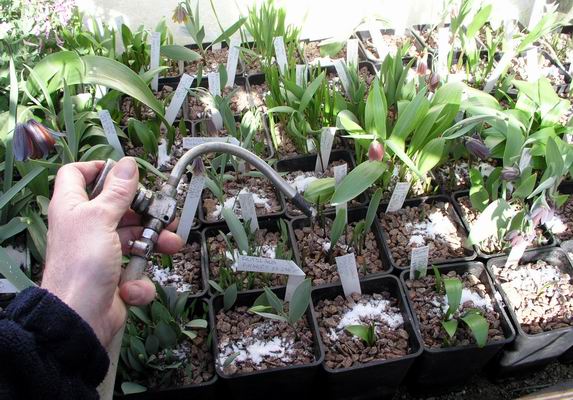 Watering in potash.



It is the same for the frits, they need this boost of potash as well. You can see that I sprinkle a small amount onto each pot and then water it in well, this not only feeds the bulb but acts as a tonic, boosting its immune system, helping it fend off fungal attacks.


^ back to the top ^