---
BULB LOG 18
30th April 2003
I will start this log as I finished log 17 with a view of another one of our bulb beds.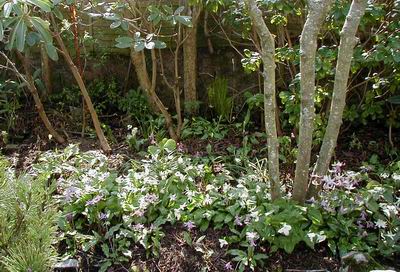 Raised Rhododendrons



Here you can see how we have pruned off all the lower branches of the rhododendrons to raise them and so allow us to plant erythroniums, trilliums and other woodland plants underneath them. It has taken these large rhododendrons twelve years to reach a size that we felt we could prune them like this and as a result we have reclaimed a large area for planting bulbs while still enjoying the rhododendron foliage and flowers.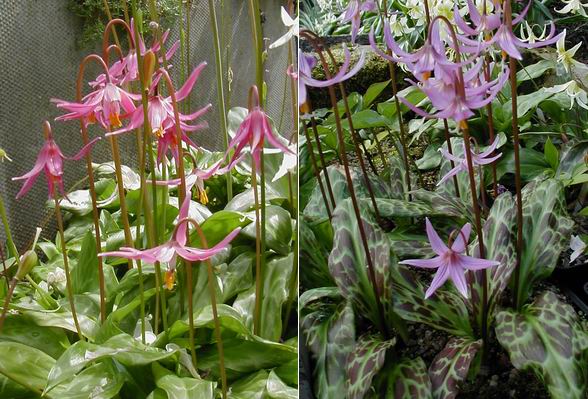 Erythronium revolutum x2



The erythronium revolutum on the left comes into flower just as many of the other revolutums are going over, it has a shorter stem, the flowers have narrow dark petals, its style and filaments are pink/purple tinged and the petals also reflex in a more acute way than some of the other revolutums that we grow. From my records I believe that this type mostly come from the northern range of its distribution, mostly Canada and especially British Columbia. The form on the left is a true gem with good pink flowers over some of the best marked leaves of all erythroniums, we grew this from seed that came from 'God's Valley' and most of its seedlings come true to the plants illustrated. We raise hundreds if not thousands of Erythronium from seed, a lot of which is collected in our own garden, and we are always finding hybrids among them, this is not surprising when you think how close together they are growing here. Some of these hybrids are unremarkable but the occasional one stands out from the others. We are rigorous in our selection of these hybrids and the main characteristics that we are looking for is good flower power, attractive leaves and the ability to increase vegetatively.



Erythronium 'Craigton Cover Girl'



Erythronium 'Craigton Cover Girl' fulfils all of these criteria and was given this name as it appeared on the cover of the 'Rock Garden' no. 108. It arose from seed of E. revolutum and I now believe that it is a cross with 'White Beauty'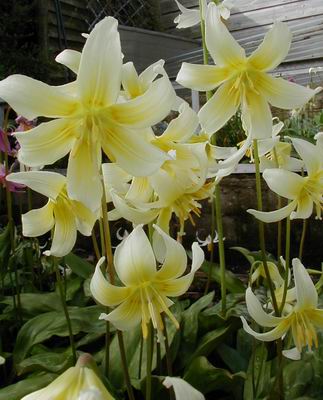 Erythronium 'Craigton Cream'



Erythronium 'Craigton Cream' is another good increasing easy going hybrid that arose from seed of E. helenae it may have crossed with oregonum or more likely with E. 'White Beauty' . White Beauty is a great parent as it usually results in offspring that have inherited its ability to form clumps. One lot of seed from White Beauty resulted in a group of seedlings that had much clearer dark markings on their leaves and were in my opinion even better than White Beauty itself, we called these Erythronium x 'Craigton Beauty'.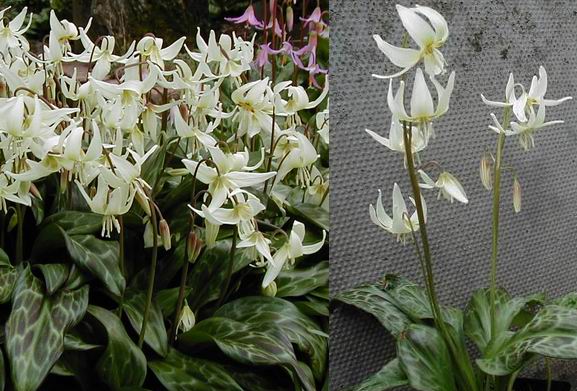 Erythronium x 'Craigton Beauty'& 'Craigton Mags'



The most vigorous of these seedlings we isolated and have called it Erythronium 'Craigton Mags, on the right of the picture above.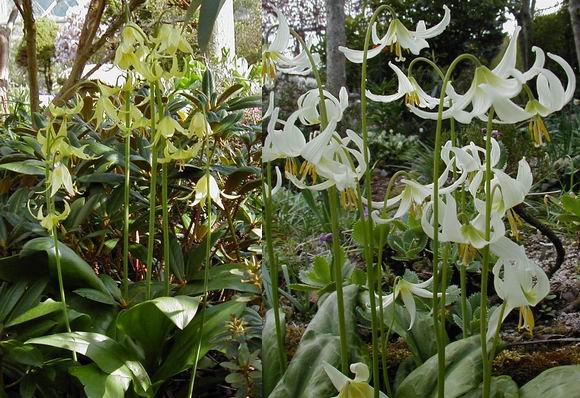 Erythronium 'Susannah' & 'Mini Haha'



Two hybrids raised by John Walker which are going around in the UK but they are still quite rare, are the yellow tuolomense cross Erythronium 'Susannah' and the white E. 'Mini HaHa'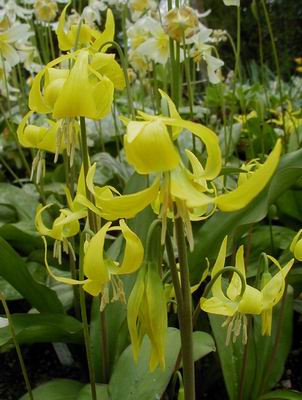 Erythronium grandiflorum



Back to some species erythronium and the first is Erythronium grandiflorum one of the best yellow species.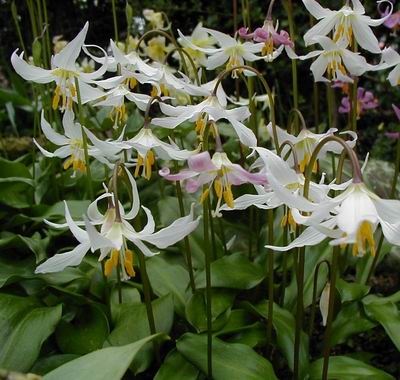 Erythronium elegans



The second is Erythronium elegans a very elegant species close to E. montanum but with slightly smaller flowers which appear a week or so earlier than E. montanum. Note that the flowers go quite pink/purple as they are going over, there is some opinion that this plant is in fact an ancient natural hybrid between E. montanum and revolutum. Another plant that shares this feature of white flowers that fade to pink/purple as they are going over is Trillium ovatum.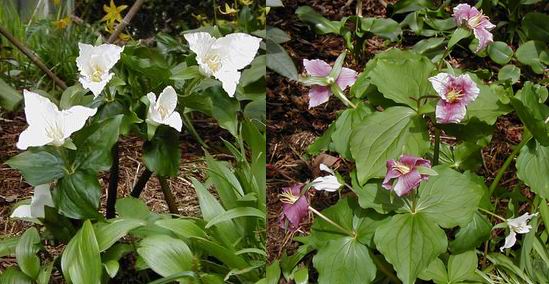 Trillium ovatum x2



I showed you this plant in an earlier log and here it is again beside how it looks today, quite a difference.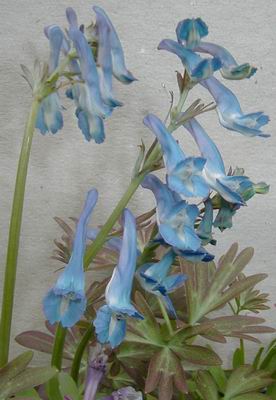 Corydalis turczaninowii



Your last picture for today is Corydalis turczaninowii a late flowering blue flower with bronze/purple shading on the leaves, we got this from Janis Ruksans. The form with this leaf colouring has been named after the famous Viking Chief 'Eric the Red'. It is a good garden plant that enjoys the cool wet growing conditions the we are currently experiencing.

^ back to the top ^