---
BULB LOG 29
17th July 2003
Like most of the UK we are in the middle of a heat wave in Aberdeen and as a Northerner born and bred I find it a little too hot for comfort. Many of the bulbs however will be lapping it up, this heat should ensure that the Narcissus buds ripen well and so I expect a bumper flowering of the winter narcissus.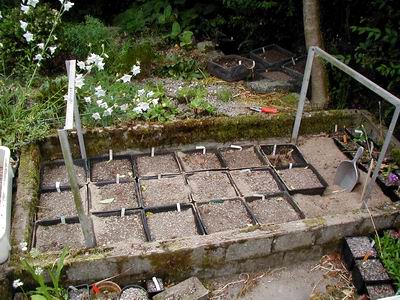 Plunge frame



We have been working our way through this frame of plunge baskets repotting the Erythroniums, this is a task that we only do every second or third year. (See log 16 for the frame in full flower.) I just love to get in and see how they are doing under ground.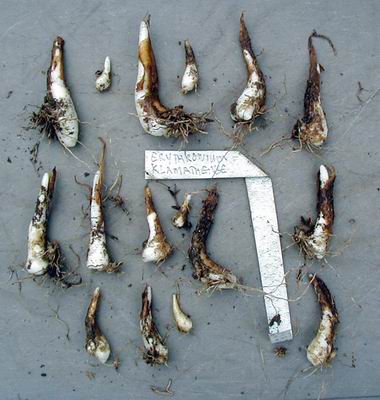 Erythronium klamathense



One of the smaller Erythroniums, E. klamathense also make small corms and like many of the other species make very few, if any, offsets. You can see this basket has produced four small offsets in three years, seed is the best way to increase these species.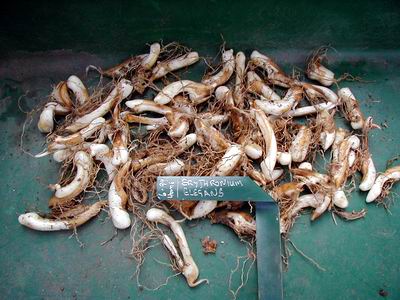 Erythronium elegans 2



Here are flowering sized seedlings of Erythronium elegans which were sown as seed in 1999, the first started flowering this year.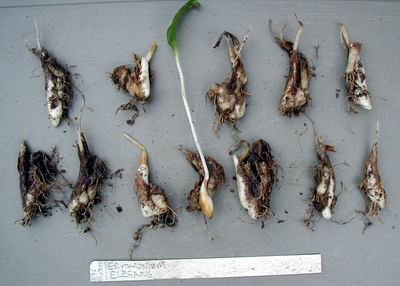 Erythronium elegans 1



If we look at the parent corms you will see that they are not much bigger. What at first appear to be offsets are the remnants of previous growth. This is more noticeable in the closely related Erythronium montanum.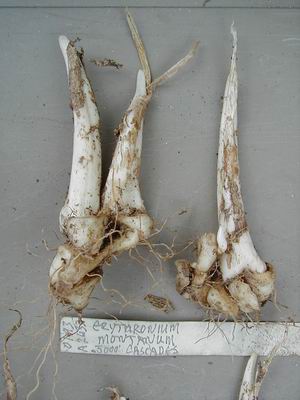 Erythronium montanum



You can see on the right the chain-like feature which is the remains of previous years corms (not all Erythroniums have this characteristic) and on the left you can see that sometimes some of the plants will produce a second growth from this chain. When growing Erythroniums from seed it is worth while selecting out any that look like they will form clumps.




Erythronium montanum x2



Here is a comparison of almost-flowering-sized seedlings on the left and mature corms on the right. I keep calling them 'corms' but there is some debate as to whether they are corms or bulbs. Until I hear a convincing explanation other-wise I think they are corms like Colchicums.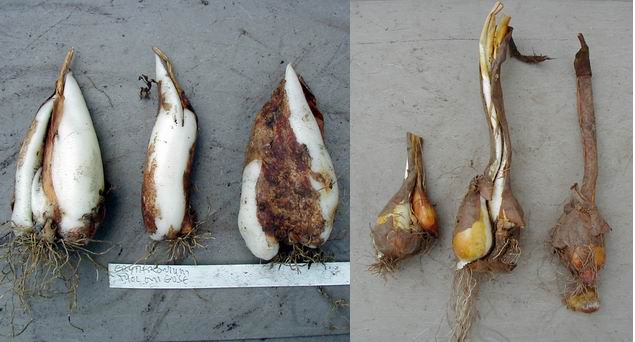 Erythronium-Colchicum



If you look at Erythronium tuolumnense next to a colchicum you can see for yourselves and make up your own mind but I think they have a very similar physical look and their growth pattern is the same. So I do not bore the pants off you on my pet subject of Erythroniums I will not post the dozens of other pictures of Erythronium corms (yet), and instead I will leave you this week with two colour forms of a beautiful Lily that has a scent every bit as appealing as its looks.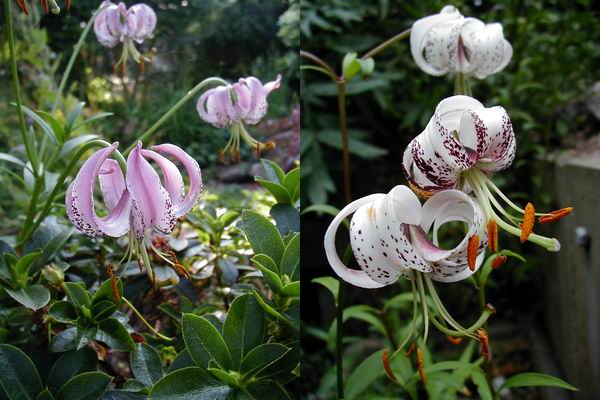 Lilium ducharteri
^ back to the top ^