---
BULB LOG 19
8th May 2003
Sad to say but the peak flowering of the erythronium is now past here in Aberdeen but there are a still few treasures to enjoy.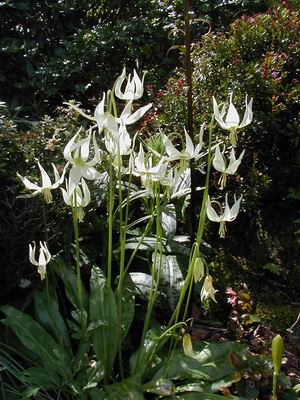 Erythronium oregonum late form



This is a form of Erythronium oregonum that always flowers after the other forms have gone past and so extends their flowering period.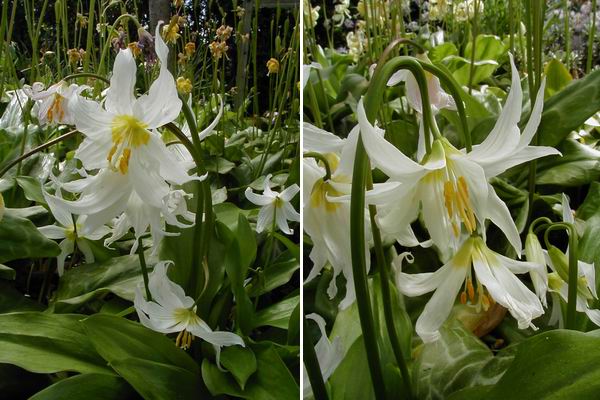 Erythronium montanum



Erythronium montanum is always the last erythronium to come through the ground, the last to come into flower and the first to ripen its' seed. I suppose that being a high altitude snow melt plant it has adapted itself to a short growing period and so just gets on with it. It is also one that has a reputation to being difficult to grow and flower in cultivation but we have not found this to be the case as it grows well for us in the cool north, plus of course we never let it see the books that says it is difficult. As soon as people read that a plant is difficult they have a different attitude to growing it and tend to treat it too carefully, I just treat them all the same.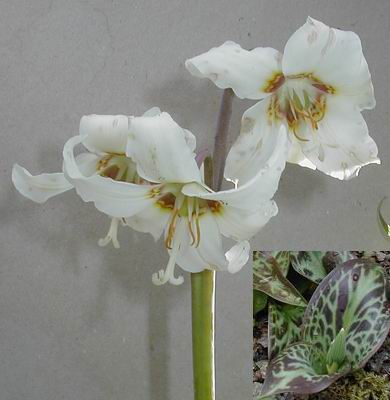 Erythronium 'triptych'



This plant is flowering for the first time, it is from our own seed and it was an attempt to cross Erythronium oregonum with revolutum but all the seedlings look just like oregonum so I think the cross failed and we just have straight oregonum. All the others looked like E. oregonum, but the one in the picture stood out even in early growth (bottom right) and now it is flowering with three flowers close to the top of the stem all opening together quite unlike any other erythronium we have grown, the brown spotting on the tepals is rain damage. We have called it Erythronium 'triptych' for our own use and we will have to see if it does the same next year then hope that it will bulk up, not a common feature of most E. oregonum that we grow.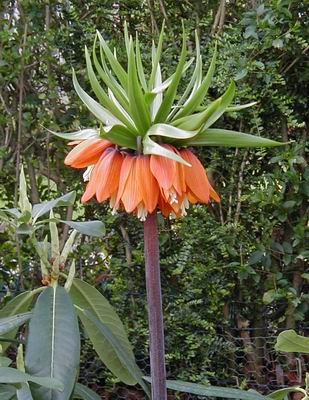 Fritillaria imperalis



I just love Fritillaria imperalis the biggest of the genera and so stately, no garden should be without one. Not so large but another beautiful Fritillaria for the garden is F. pyrenaica which comes in many guises.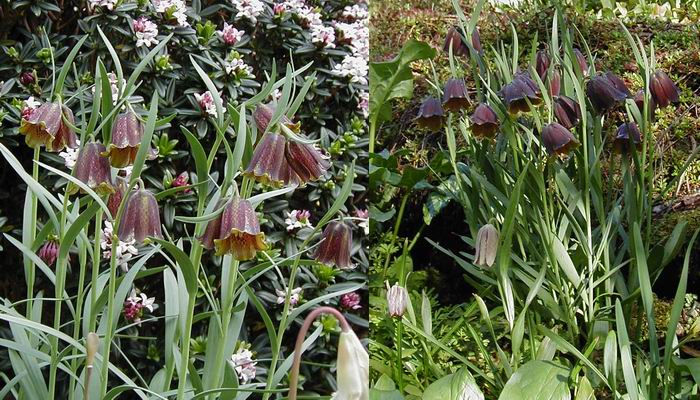 Frit. pyrenaica twin & 'Braeside'



On the left is a tall form that we call Frit. pyrenaica twin because when growing well it usually has twin flowers on most stems. On the right is Frit. pyrenaica 'Braeside' one of our own selections that is among the shortest stemmed forms with good flowers that I have seen. F. p. 'Braeside' also makes a great pot plant for the show bench.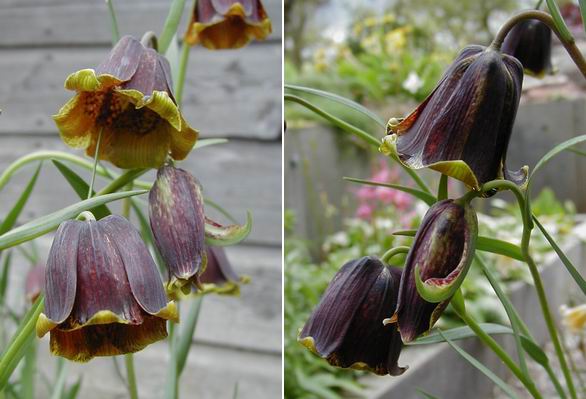 Frit. pyrenaica x2



This is another seed raised group of Frit. pyrenaica with quite a significant recurve to the petals not an uncommon feature of this frit. Note the mutated tepal on one of the flowers, this is found occasionally on plants and is usually the result of some form of damage when the flower bud is at a very early stage of development and it will not normally appear again next year.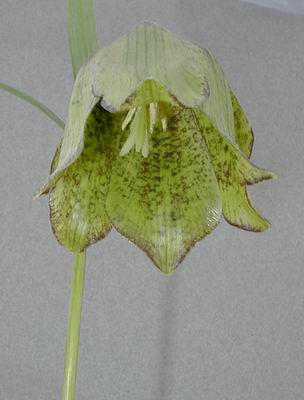 Fritillaria hupehensis



Fritillaria hupehensis is one of the Chinese frits and we have grown it for a number of years it is happy in open garden conditions and has set good seed for us.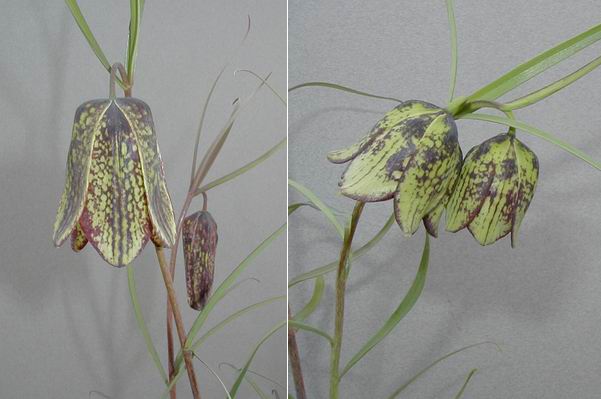 Fritillaria cirrhosa x2



Here are a couple of forms of the very variable species Fritillaria cirrhosa, also from China. These are seed raised plants, the one on the right is from the ACE seed expedition ACE 2252 sown in December 1994 and the one on the left was from SRGC seed, I think they are all very beautiful.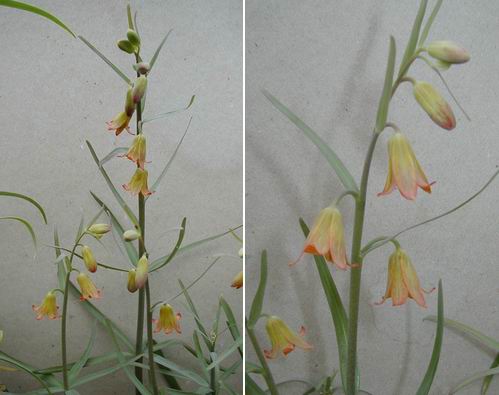 Fritillaria phaeanthera x2



In the frit house is Fritillaria phaeanthera an American species that is thought to be an ancient hybrid involving F. recurva and F. micrantha. It has lovely if small red/orange/yellow flowers and it is also sometimes called F, eastwoodiae.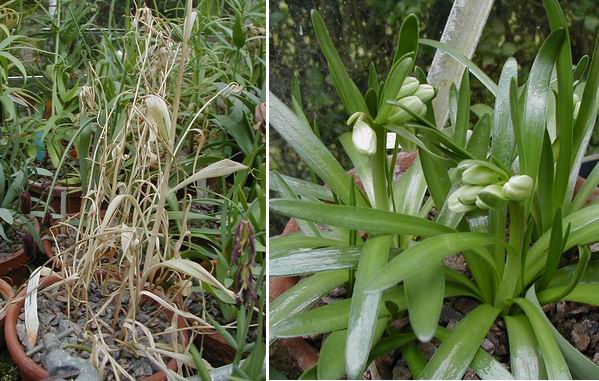 Frit first & last.



Just to show where we are in the frit house the first frit to go dormant is the SE Turkey form of F. hermonis amana which has not set seed this year and the last frit to flower is always F 'Martha Roderick' a form of F. biflora and possibly the worst smelling of all the frits that we grow.

^ back to the top ^