---
NUMBER 1
02 JANUARY 2003
I have watered the bulb houses today, despite the warning that the weather is to turn colder those bulbs already in growth are showing the first signs of dehydration, flopping over.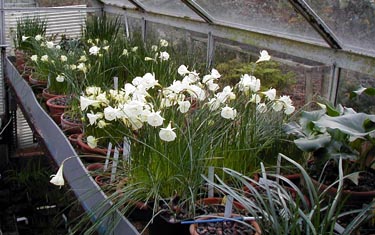 Bulb House 02.01
I have given a light watering into every pot with slightly more to the most advanced in growth. Applying the water carefully to each pot in turn is an excellent method to observe what is happening and seeing the first tiny shoots emerging. I spotted a single greenfly which is a good warning that it is time to spray with a systemic insecticide the next bright day we get as long as it is not freezing.
The most notable observation is how far advanced many plants are for this time of year, the Narcissus especially. We have never had N. 'Cedric Morris' in flower for Christmas before it is usually been late January before the first flower opens.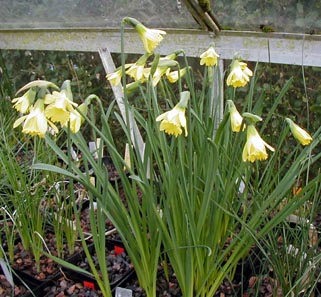 Narcissus 'Cedric Morris'


The down side is that it is way too tall at 25cms nearly twice as tall as we expect due to the short amount of poor daylight that we get at this time of year.

The Narcissus romieuxii types are all well into flower, it is a pity that there are no shows when these little beauties are displaying their wonderful blooms.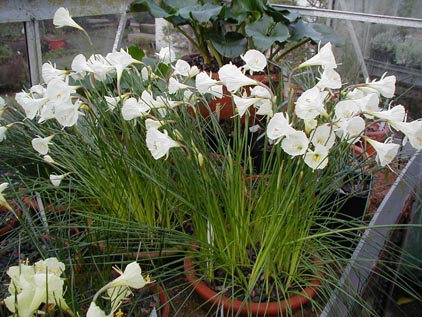 Narcissus romieuxii mesatlanticus
Narcissus romieuxii mesatlanticus is always the first of this species to flower, we got the original bulbs from Harold Esselmont many years ago and it is one of the most reliable forms that we have flowering well every year with out fail.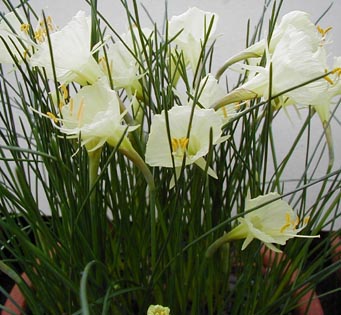 Narcissus romieuxii 'gem'
Narcissus romieuxii 'gem' is our own selection and is also a very reliable flowering form. Much shorter even in poor light it flowers at 6 to 10 cm when they first open. Because they stay in flower for such a long time they will double in height before the flowers finally fade after some 6 to 8 weeks.
The first flower on Narcissus romieuxii JCA805 is just opening now.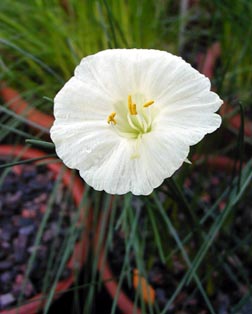 Narcissus romieuxii JCA805
This is the very large flared form whose corona continues to expand for some time after it first opens.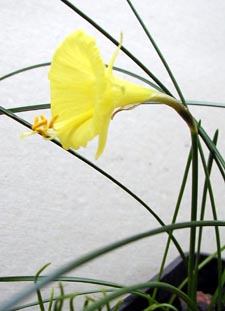 Narcissus romieuxii
This is a more yellow form of Narcissus romieuxii which also stays very short.
There are so many different forms and selections of N. romieuxii that we have had to restrict ourselves from collecting them all as we would run out of space (as if we have not already).
Another good short narcissus in flower just now is a cross between cantabricus and bulbicodium we got it from Don Stead who I beleive made the cross.

Narcissus cantabricus x bulbicodium
It is an excellent bulb that increases well.
Finally today is Narcissus albidus kesticus.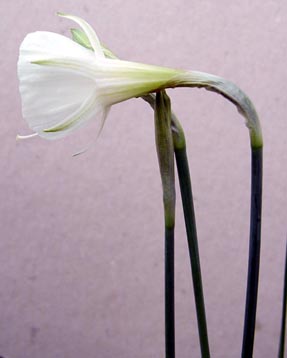 Narcissus albidus kesticus]
^ back to the top ^