---
By Sandy Leven




New York in July……

……What's in it for a rock gardener?

Answer: - New York Botanical Garden, one of two superb public gardens in New York [there are probably others about which I know nothing]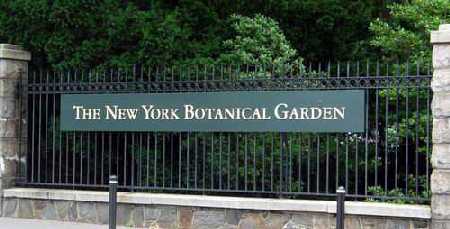 New York Botanical Garden is in The Bronx, to the north east of Manhattan and the other garden, Brooklyn Botanical Garden, is naturally in Brooklyn. The former is by far the larger of the two and covers 250 acres, most of it grass and woodland. It has several superb cultivated areas, which surely must provide interest for all gardeners.
The green arrow points to Central Park and the green arrow towards New York Botanical Garden.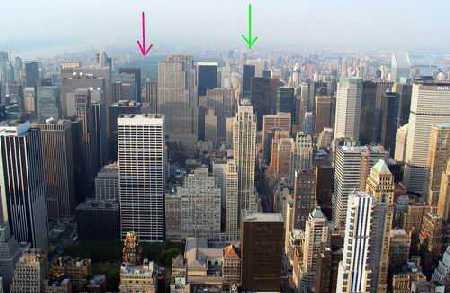 To reach the garden we took the Metro from Columbus Circle to Belford Park Boulevard and walked 4 or 5 blocks to the garden. As it was Sunday it was quite quiet. Belford Park Boulevard is the penultimate station on the 'D Line'. The garden is North of Central Park.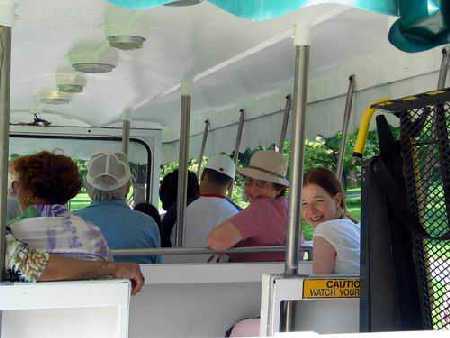 To get you round the garden there is a bus/train system with several stops along its circuit.
In July the highlights are the fantastic Enid A. Haupt Conservatory which houses plants from jungle to desert, much like the glasshouses at the RBG Edinburgh. The conservatory encloses beautiful paved areas with formal ponds, patios and an amazing collection of modern sculpture by, among others, Henry Moore, Rodin, Picasso . I really liked Picasso's SHE GOAT'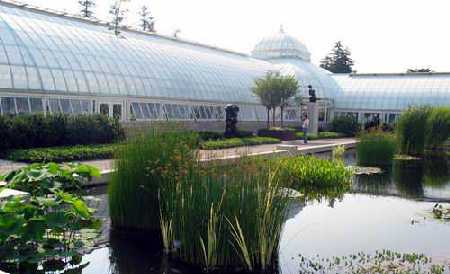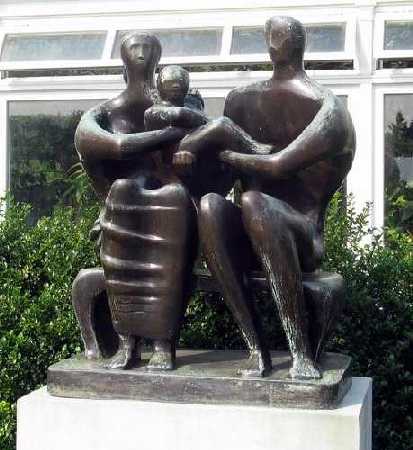 For us the rock garden was a must, as was the native plant area, though both would be better earlier in the season. The temperature was in the high 90's when we were there!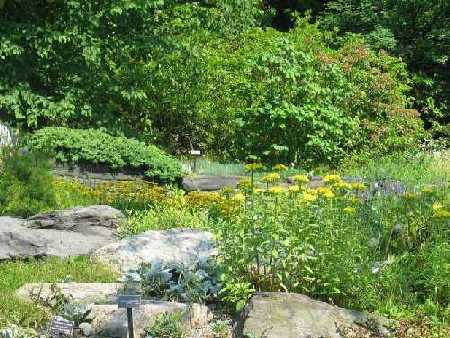 Just inside the rock garden there is a collection of very new looking hypertufa troughs.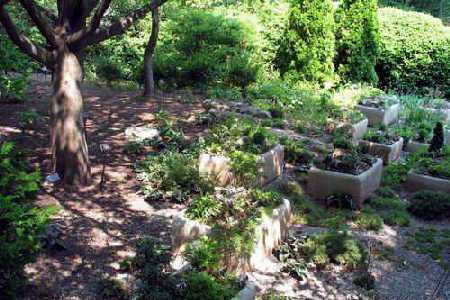 Many were well planted but since this is a public garden all the plants were labelled. A tad over the top in a wee trough I hesitate to suggest.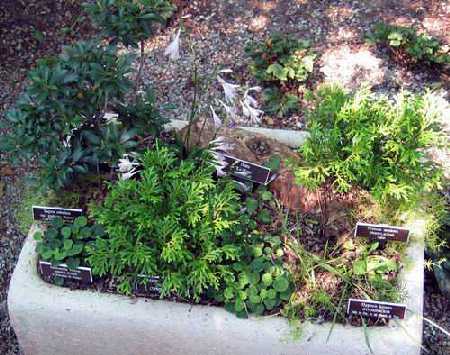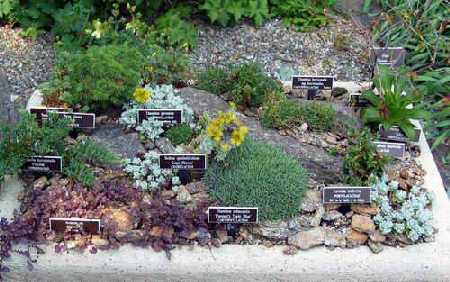 The little Acaena at the front left with the rose coloured leaves comes from Chile

.

A nice wide path meanders round the rock garden and eventually leads you back to the entrance. As you go round different aspects of the garden catch the eye.

In the centre is a lawn beside which is a pool with a stream tumbling down into it. Beside the path lots of treasures vie for your attention. Because this is New York some of the plants are unexpected to a Scottish Rock Gardener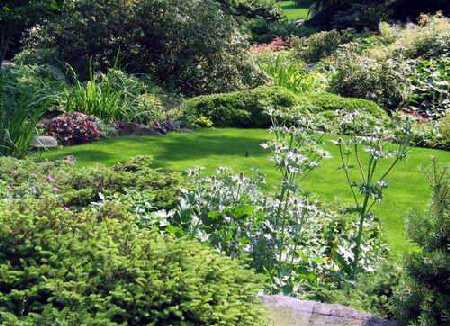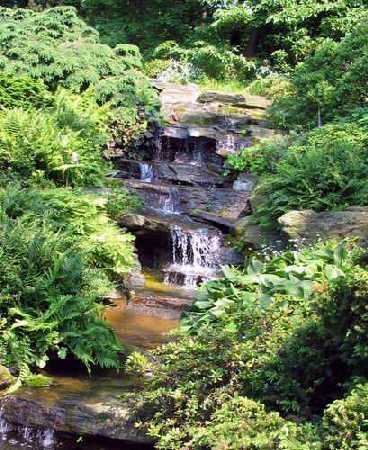 Hostas are thought of as plants for shady places but here in nearly 100 degree sunshine they thrived beside a hot path.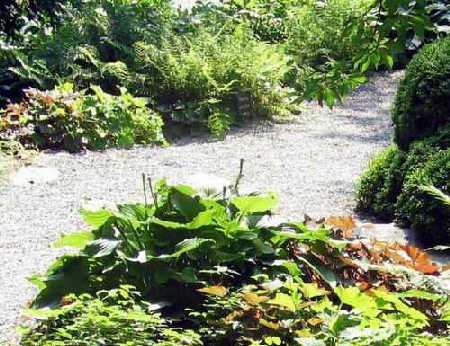 A lovely Betula jacqumontii gave a little shade to ferns and heucheras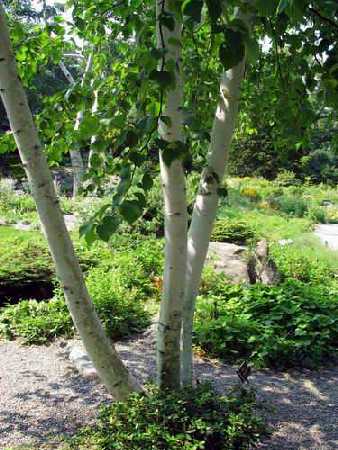 Orange Alstromerias grow 'wild' in Scotland but this one seemed well behaved in front of Gunnera manicata, which seemed a bit dwarfed over here.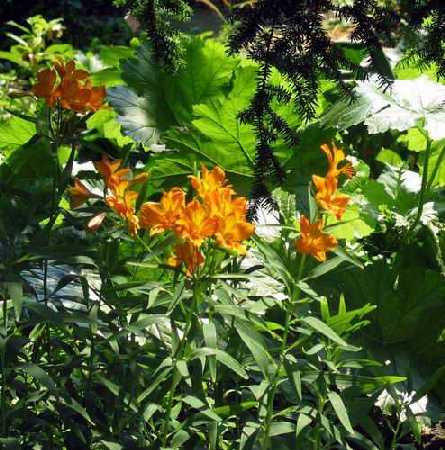 A late flowering Japanese azalea lit up a green corner. Indeed it was the 'green-ness' of the rock garden which struck me. I expected a more desert landscape, like Denver BG.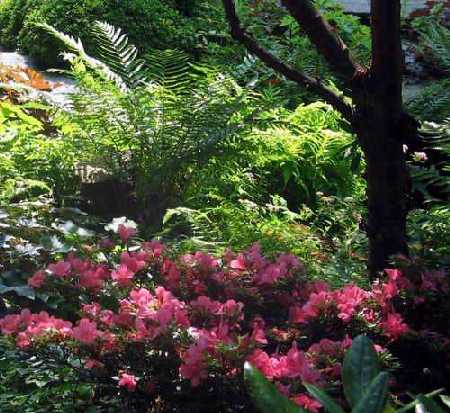 I was delighted to find a tiny plant of Gentiana oschtenica growing beside the path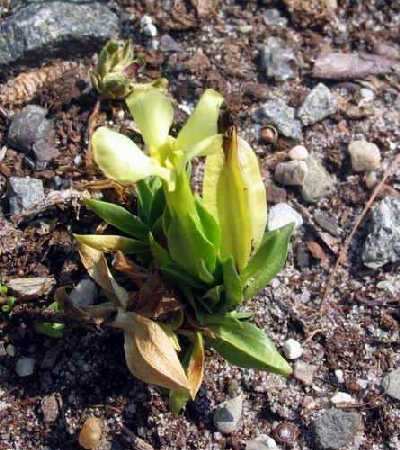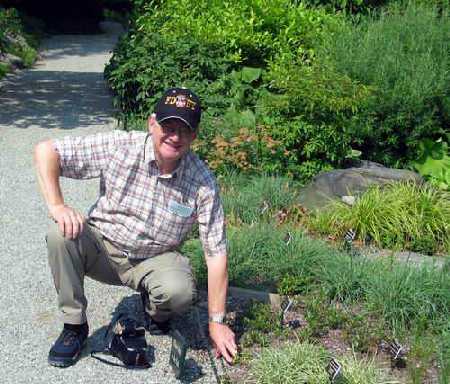 Grasses are popular in American garden and I was taken by this clump of Carex ornithopoda and just beside it a totally un-Scottish garden plant Sarracenia x wrigleyana [ S. psittacina x leucophylla]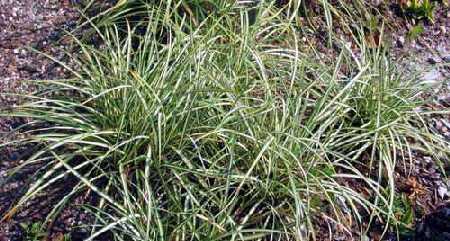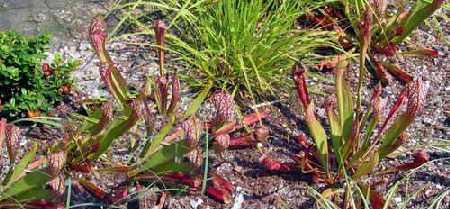 Delphinium pylzowii I took to be D. nutaliana from Colorado and Montana. Stupid me! It comes from China!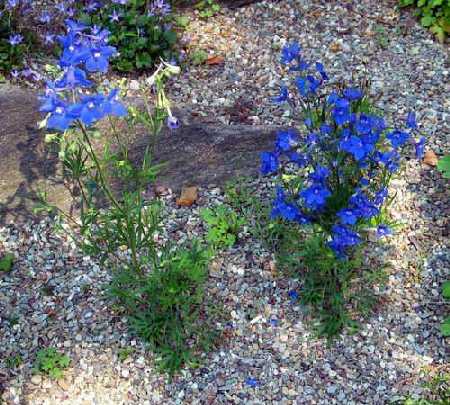 Echinocerus reichenb baileyi is a small ball cactus from Oklahoma and Texas and we saw it in flower! I have seen cacti growing outside in Geneva BG. Are they hardier than might be supposed.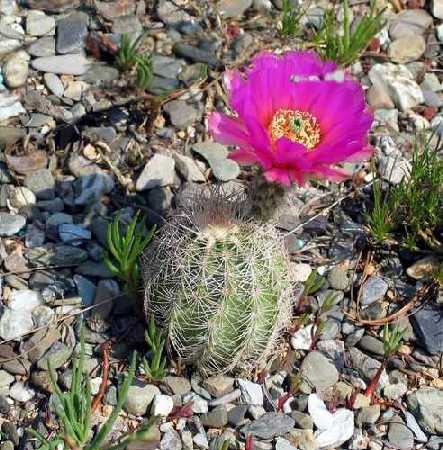 One of the stars plants from the USA is Eschotzia californica. Here it thrived in the hot sun. Each plant a little differen - one just a bit redder or more yellow than the last. One of my favourites as nurserymen write in catalogues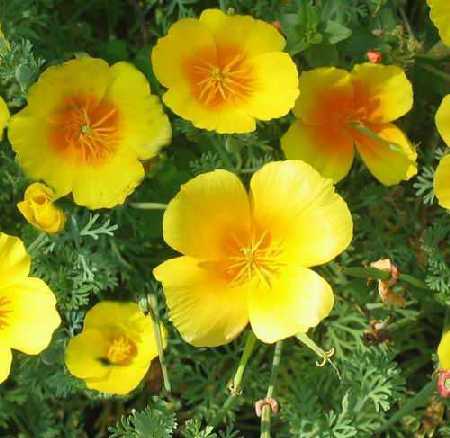 And the prize for the best name? Anthemis tinctoria 'Sauce Hollandaise'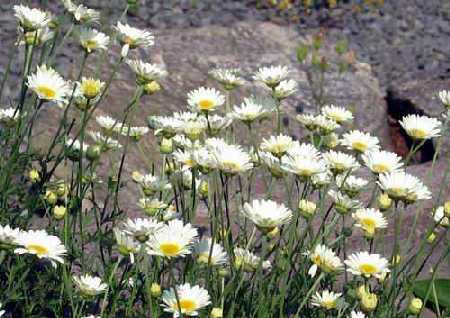 Has ZZ been to this garden? I think so. There is great bit of his style of rockwork near the rock garden exit. Relatively narrow rocks sitting vertically to make a crevice garden, topped by a Delosperma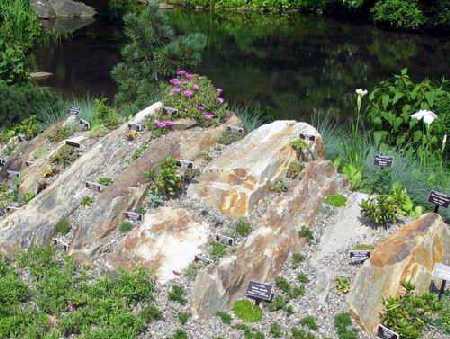 The Peggy Rockefeller Rose garden is another place entirely. With over 2001 rose bushes, it is stunning and popular with wedding parties.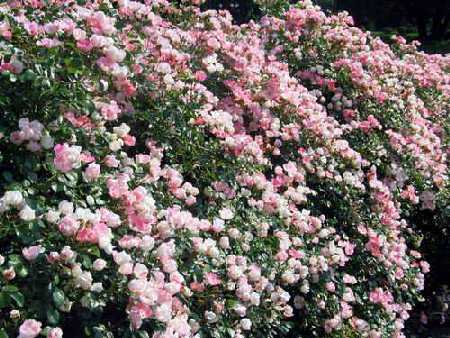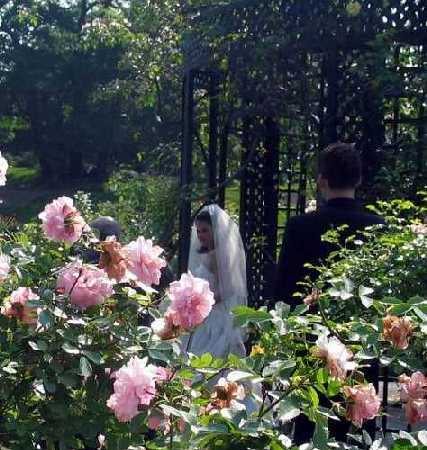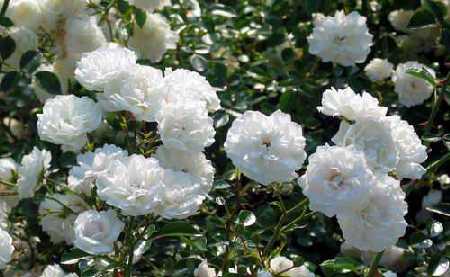 The central feature of the New York Botanical Garden is 50 acres of uncut forest, something of a rarity in the centre of a metropolis. The herbaceous borders contain a rich cross section of well chosen plants, carefully chosen to compliment their neighbours. This part would need another article to do the planting justice.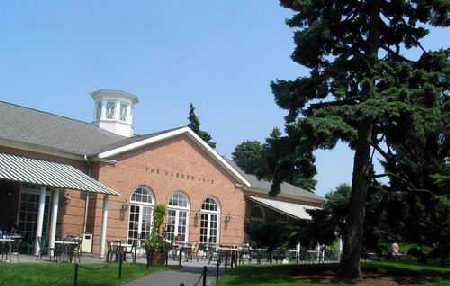 If you get too hot, thirsty or hungry there is an air-conditioned restaurant serving a range of tasty food. I was glad I made the effort to get to the garden and hope to visit in spring one time. Perhaps NARGS can arrange a conference to suit me and the flowers in the New York Botanical Garden.
^ back to the top ^