---
by Sandy Leven.

MONT CENIS Where is the best place to go see alpine plants? Most seasoned rock and alpine gardeners who travel abroad will say 'The Bernese Oberland' and they will tell you in no uncertain terms that Wengen is THE BEST place of all. Wengen is an excellent centre surrounded by superb alpine terrain. It has one draw back as far as I can see - no cars are allowed. If like me you travel to the Alps by car then a holiday based in Wengen entails leaving your car distant from your hotel. I like to be beside my car. My car is my holiday base. I adore driving through mountain scenery and over high passes. Some can be quite hair-raising! Over the last 20years most are much improved. If you are going to travel by car then where better to go than to the French Alps. I would suggest driving down the AutoRoute to about Lyons and then heading west. As you approach Chambery distinctive flat topped mountain massifs begin to appear. These are characteristic of the terrain around Grenoble. High-speed roads take you right into the heart of the French Alps.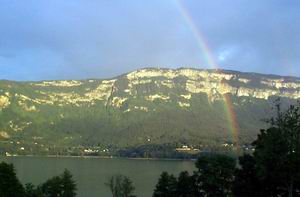 Lac d'Aiguebelette near Chambery



You are heading for the Italian border country of Haute Savoi. Dozens of ski resorts offer thousands of apartments to rent in the summer. Some ski towns can be almost deserted in July and you should be careful not to find yourself the only resident in a mountain Manhatten. I suggest you stay in a real town close to rugged terrain. My suggestion is Lanselbourg in Haute-Savoi in the south east corner of France. It is close to three superb passes. Two, which are still rugged, are The Col d'Iseran and the Col du Galibier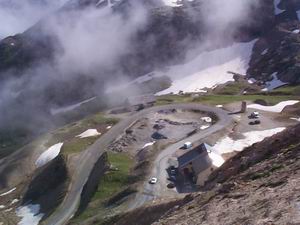 Col du Galibier



As a bonus the beautiful Mont Cenis Pass is there as well. All three are conveniently accessed from Lanslebourg and Lanselvillard. In recent years the Lanslebourg has transformed itself from dull semi industrial border town into a lively tourist centre. It offers itself as the base for skiing in the Val Cenis area. It is nowhere near as touristy and 'artificial' as Tignes beside Val D'Isere to the north. Your journey there is on Autoroute all the way from Calais to Modane 28Km west of Lanslebourg. Lanslevillard is a newer resort a few Km east of Lanslebourg. By choosing a valley resort like this you can explore the passes to the north and south. Different seasons appear at different heights in the Alps when it is summer in the low passes it is still spring, it may even seem like winter, high up, so you see different seasons as well. Lanselbourg is at the bottom right of the map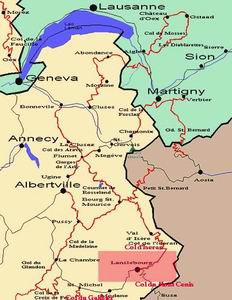 map



I will describe the three areas in separately for the web article.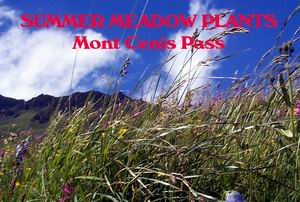 Summer meadow



The first trip to make is to The Mont Cenis Pass, where the cloudy blue glacial water hides a drowned village. When the water is low you may still see ruins peaking above the surface of the water. Creepy!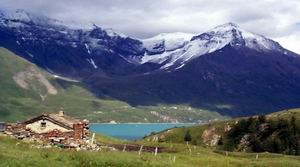 Mountain Hut



Farm on the Mont Cenis One of the main summer roads from France to Italy crosses the pass, so it is a busy road. Several years ago we went towards the end of June, when the snow was abundant and the Pulsatillas were superb. By July many have been chopped down for hay. Pulsatilla apiifolia can be found in more shaded or North facing places where the snow melts last.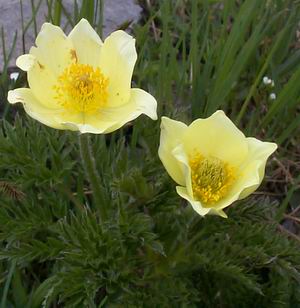 Pulsatilla apiifolia



Still if you miss the early flowers you will see plenty summer meadow plants. Fabulous Campaunlas and Centuareas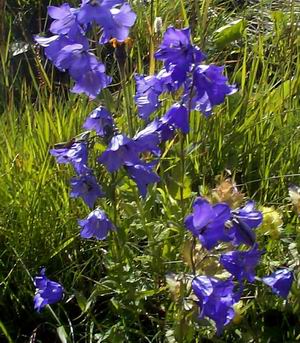 Campanula rotundifolia, our native Scottish harebell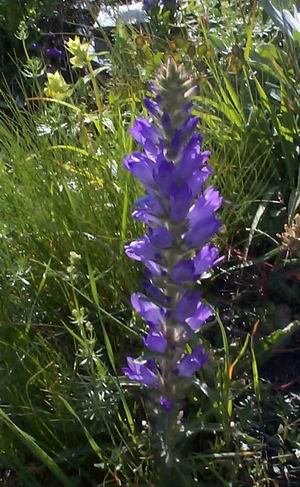 Campanula barbata with its hairy leaf edges is easy to grow from seed in the garden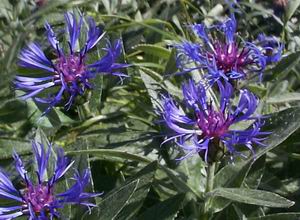 Centaurea montana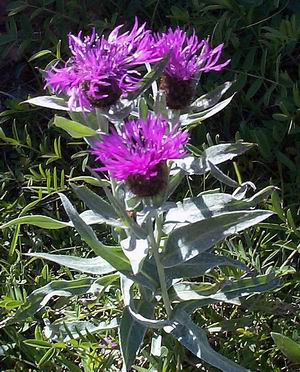 Centuarea uniflora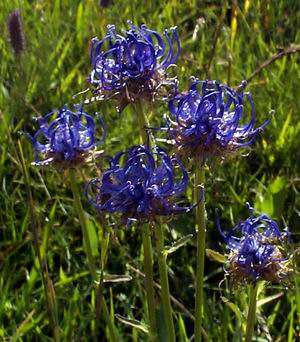 Phyteuma orbiculare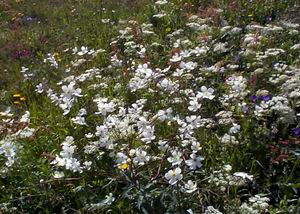 Anemone narcissiflora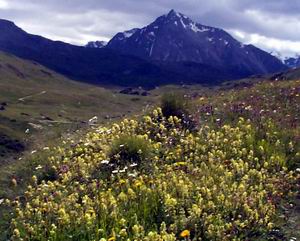 Mountain rattles cluster at the edges of pasture land beneath the Massif de Mont Cenis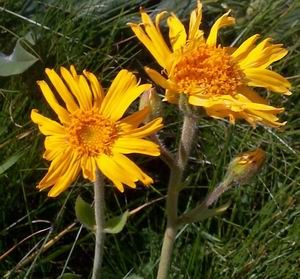 Arnica montana



Arnica montana shows its ragged yellow daisies throughout the summer. Somewhat untidy in appearance the flowers are quite exotic on an alpine montain side.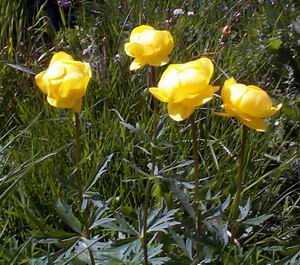 Trollius europaeus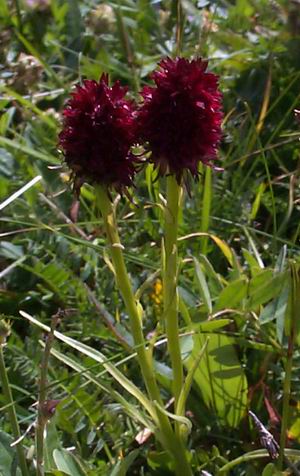 Nigritella nigra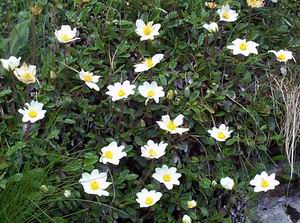 Dryas octopetala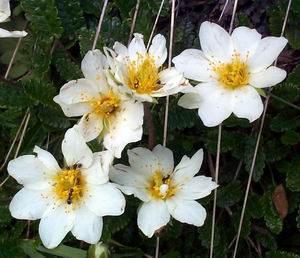 Dryas octopetala



Dryas octopetala , the emblem of the SRGC is also circumpolar. The leaves resemble tiny oak leaves. The flowers are followed by fluffy seedheads. Are the ants pollinators?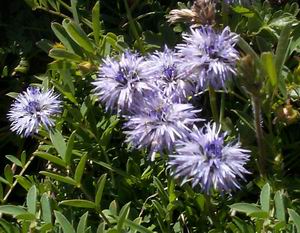 Globularia punctata



Globularia punctata a loose growing plant with characteristic leaves growing through tallish grasses near the stream side. A few years ago, we found Globulara repens growing flat on boulders. It has almost woody stems and is only a few cm tall.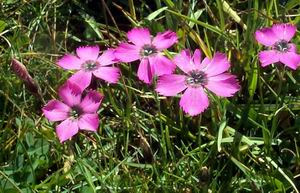 Dianthus sylvestris



Dianthus sylvestris is a bright carnation whose colour might seem gaudy but fits in well with all the bright blues and yellows in the grass. Lucky we got here before the cattle. The farmers use electric fences to constrain the cattle and slowly advance the fences through the meadows. Go too late, and everything is eaten. Go too, soon and the flowers are not out.

The most wonderful feature of the Mont Cenis pass is its lake. There is nowhere else that can I think of where the mountains encircle such a beautiful body of water, where you can find fabulous plants and all just at the roadside. If you were so inclined you could photograph many of them without leaving your car. Make sure to stop first! In June the slopes are filled with masses of pulsatillas, huge white unforgettable clumps of them. By july they are seeding and being eaten by the ubiquitous cows. Now in the stony gravel of the roadsides, a totally artificial setting there are splendid clumps of Gypsophylla. I thing they must by G. repens but they are about 20cm tall and are in many shades from deep purple/pink to almost white. Big plants and little plants, some fading others just opening their millions of flowers stud the roadside for several miles. Growing withit in the picture is Campanula rotundifolia [our native hareball]. Interspersed with the Gypsohpylla as Campanula cochlearifolia popularly known [but not by me!] as Fairy Bells. I think of it a C.pusilla, which I bought many years ago from Jack Drake. It was supposed to run around my rock garden but kept dying. I should have copied it here and grown it through tar macadam.

Keeping them company were many clumps of moon daisies, Leucanthemum vulgare. Not at all vulgar, to my mind but pristine yellow eyed white daisies looking up to the sky. It's funny how a daisy in the grass is a weed but a daisy on the mountainside is a treasure. An even bigger treat was in store for us when we turned the car at one of the restaurants/gift shops. On the tops of the high roadside bank away from the lake was a regiment of lilies. Lilium martagon studded the hillside, as they say in the best books. A cliché maybe but the hillside was definitely studded!

Lilium martagon here grew as single individuals not in clumps as frequently seen elsewhere. Also it is right out in the open not growing, sheltered by trees, at the edge og woodland. I wonder if its position here on the Mont Cenis has something to do with the destruction of the old settlement and the relocation of the main road. Maybe there used to be trees here? Maybe the soil was excavated from elsewhere and dropped here to landscape the road? The lilies are superb. Clever plants they hedge their bets against bad weather by opening their flowers in succession. They varied slightly in their bright maroon colour but we saw no white ones. Some had wonderful green markings on the petal reverse as the buds were opening

The mountains, the lake and flowers just 30 minutes drive from a warm hotel with a bath and good food waiting. We stayed at the Hotel de la Vielle Post beside the new town square in Lanselbourg.





^ back to the top ^